Blockchain Gamer Connects Track Rundown – Gamemaker Sessions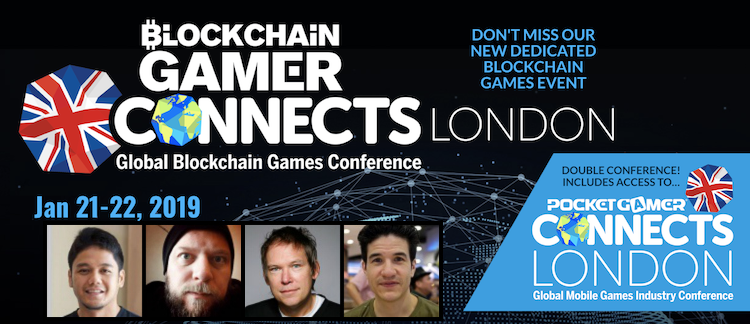 Just days to go until the most exciting blockchain event of London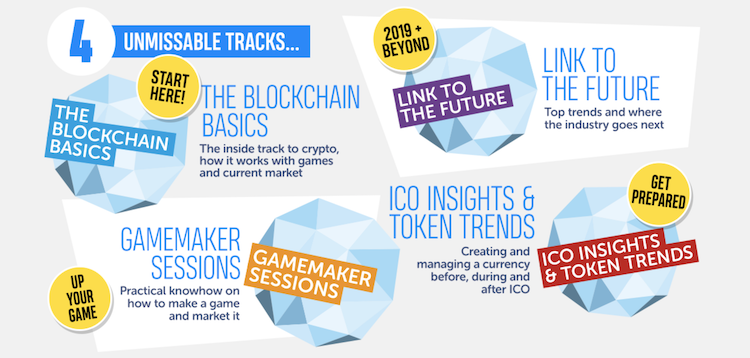 We are counting down the final days until the spectacular debut of Blockchain Gamer Connects! For London, in particular, it will be the introduction of Blockchain to an already long and successful line of events from Steel Media.
To get you excited for what's in store, we're showcasing all 4 Blockchain tracks right here. Up your game with the Gamemaker Sessions, with the full line-up right here.
---
Gamemaker Sessions
Monday 21st January:
2:00 – 2:20 pm – Building the Metaverse, One Game at a Time –
the metaverse has been the digital reality presented by cyber-punk and sci-fi genres for decades. Where is the metaverse, how will it get here, and most importantly: what will you become when it arrives?
Explore a blueprint for producing the metaverse one game at a time and discover how blockchains provide the key ingredient for its creation.
CEO of 8 Circuit Studios, James Mayo takes us through developing a revolutionary metaverse on blockchain.
2:20 – 2:40 pm – Soccer Manager Crypto – True Blockchain Gaming –
Soccer Manager Crypto has, behind it, an extensive volume of experience, having decades of knowledge from its previous work with soccer management simulators on PC. Andrew Gore, the Co-founder and CEO of Soccer Manager, shares his insights on game development, imparting some wisdom from his own 17-years of experience.
2:40 – 3:00 pm – NFT Bridging – Horizontal Freedom for Blockchain Enhanced Games – 
Cross-chain integration brings with it a profound level of potential for blockchain games that strive to provide it for players. Patrick Rieger, the CEO of Everdragons discusses just how NFT Bridging can bring a whole new dimension to the player experience.
3:00 – 3:40 pm – Panel Discussion – Lessons Learned to Take Into the Next Generation of Blockchain Games 
Blockchain game development is the equivalent of navigating a dark hallway with a candle; there are so few illuminating examples to model your path on. We're therefore fortunate to bring together leading developers in the blockchain gaming space to share their thoughts on the lessons they've learned. And how these can be taken into account for future developers.
Hear from the likes of Marie Franville (Director of BD for B2Expand), Tony Pearce (Co-founder of Reality Clash), Shaban Shaame (CEO and Founder of EverDreamSoft), Marguerite de Courcelle (CEO of Blockade Games) and Vladimir Tomko (Co-founder and CEO of Blockchain Cuties), and moderated by Jon Jordan.
3:40 – 4:00 pm – From Scratch to Building a True Game – Embracing the Blockchain in Heart –
Utilizing economic incentive and optimizing gaming experience, blockchain ecosystem can be greatly improved for the players who demand high quality and more challenging gameplay. CEO and Co-founder of INFUN, Francis Peng discusses how blockchain can be used to create a truly thrilling and engaging experience for players, and how to make extensive use of this technology.
4:00 – 4:20 pm – Getting Mainstream Gamers Excited about NFTs – 
Gamers don't care about the blockchain and non-fungible tokens! So how do we market our games to get players who believe 'Bitcoin is only for illegal trading' and that 'all cryptocurrencies are a scam' excited about our games?
In this talk, So Couch Studios co-founder Sune Thorsen draws on the studio's experiences from revealing their blockchain fantasy MMORPG "Ember Sword" to a crowd of tens of thousands of mainstream gamers online.
With over 400 comments on Reddit, how did a mainstream audience respond to a blockchain game, did people truly care about "true ownership", and what are the best tips and tricks for getting gamers excited about blockchain games and non-fungible tokens? That's what we'll explore in this marketing-focused talk.
4:20 – 4:40 pm – Building a Smart Contract System for a Future In-Game Economy – 
Building games is hard. Building a smart contract system to flawlessly run inside a game is even harder. How do you balance decentralization with the ability to evolve with the market?
How do you make sure your smart contracts are just as bulletproof as a good set of armor? Come and learn what mistakes should be avoided when designing a smart contract system for a future in-game economy from the founder of War Riders.
Featuring the CEO of War Riders, Vlad Kartashov, This talk will combine business, technology, and game design strategies to succeed in a new, evolving world of decentralized gaming.
4:40 – 5:20 pm – Surviving the Market Downturn – Building a Real Product to Attract Funding –
With 2018 bringing with it a thoroughly bearish downturn for the cryptocurrency market, Blockchain games were certainly not exempt.
But with the new year now here, we're fortunate to have Shirley Lin (Co-founder & Chief of Business Development), Masaru Ohnogi (Head of Global Business Development for Gumi), Joony Koo (Partner for Blockcrafters Capital), and Francis Peng (Co-founder and CEO of INFUN).
They will be discussing the necessity, on the part of blockchain game developers, in building a product that is able to transcend the market, luring in genuine institutional and investor interest.
---
For more information about the exciting talks, discussions and panels taking place between January 21st & 22nd, visit the Blockchain Gamer Connects London site here.
Continue the discussion in our Telegram group and don't forget to follow BlockchainGamer.biz on Twitter, Facebook, and YouTube.