Coinbase challenger Kriptomat will use Enjin to provide market for ERC1155 tokens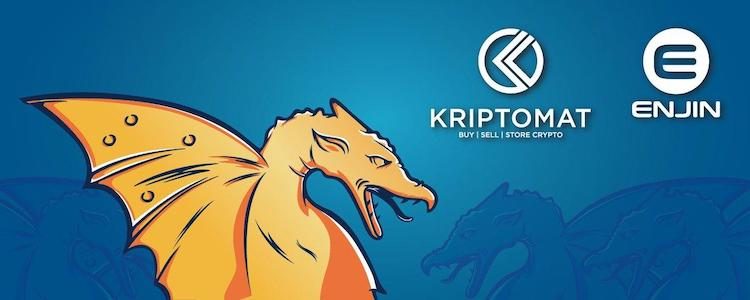 Kriptomat wants to outmaneuver its rival by offering unique access to digital assets
For coin exchanges like Coinbase, sticking just to the realm of serving as a marketplace is not enough. This thinking is clear when we look at its push into other realms of development such as Security Token Offerings and operating as an investment fund. Rivals such as Kriptomat have other ways to expand and, hopefully, supersede the incumbent Coinbase.
One of the ways that the rival exchange aims to do that is by working into the world of ERC721 tokens. Just how it intends to do this is by integrating with Enjin and its ERC1155 token protocol.
The company believes that by providing an exchange for digital asset holders, user retention and acquisition will increase.
The integration of this digital asset class will mean that users can benefit from perks on the exchange, such as: trading points, referral rewards, collectibles, and gaming items that provide trading discounts. 
One of the underlying advantages, both for Enjin and Kriptomat users is that this provides an in-road for the Enjin multiverse. Meaning that wide range of ERC1155-backed games can be traded on the exchange.
Meanwhile, various titles on the multiverse have also expressed interest in integrating various collectibles from the Kriptomat exchange into their games.
Kriptomat on EnjinX and celebratory giveaway
In order to provide exchange users with a quick way to access to Enjin ecosystem, it has its own variation on the EnjinX blockchain explorer. This platform allows users to easily explore Enjin, while providing a clear path to use the exchange.
In order to celebrate its adoption of the Enjin token, the exchange is hosting an exclusive giveaway of various Founders Tokens. Each of these offer various benefits for users of its platform, including rewards and access to exclusive giveaways.
Find out more about the Founders Token Giveaway here.
For more information about Kriptomat, visit the website.
---
And continue the discussion in our Telegram group and don't forget to follow BlockchainGamer.biz on Twitter, Facebook, YouTube, and now on Discord!