Powering mobile game distribution for southeast Asia
Token:
MOO
Blockchain:
Ethereum
Standard:
ERC-20
Company:
Cloud Alliance
&
Unity
Total supply:
500 million
Divisibility:
8 decimal places
Status:
Private sale ongoing
Base price:
1 MOO = $0.30
Soft cap:
$10 million
Hard cap:
$30 million
Planned TGE %:
41%
Mining:
N
Live market:
TBA
Singapore-based company Cloud Alliance is currently best known for its CloudMoolah aggregated payment system.
Available through the Unity middleware technology, CloudMoolah enables developers to more easily collect payments for their mobile games in southeast Asia.
The MOO token will power the blockchain-based Moo Store for mobile game distribution in southeast Asia
The next step in Cloud Alliance's masterplan is the Moo Store, which is blockchain-based mobile game distribution platform that will be fueled by the MOO token and launched with technology partner Unity.
It is designed to allow developers to take a larger cut of game sales (+70%) and receive their money more quickly than is currently the case.
Finding the balance
As is often the case with mobile game distribution platforms (c.f. ALAX), the Moo Store will operate a dual-token approach.
Its 'soft currency' will be CloudMoolah Points (CMP), which will be used to purchase games and in-app purchases. It can be bought using fiat currency using credit cards or local payment methods at the fixed rate of 1 CMP = $0.01, or converted using MOO tokens at a discount of up to 20%.

Initially not a blockchain asset, CMP will eventually be built on the ERC-20 standard to create a unified game economy but its supply will not be limited and it will not be tradable.
In contrast, the MOO token (also ERC-20-compliant) will be tradable on cryptocurrency exchanges and its value will be fluid, although it will launch at a base price of 1 MOO = $0.30.
TGE ongoing
Cloud Alliance is currently running a private pre-sale for MOO tokens, which will end 28 March. The public sale will run from 30 March to 30 April.
In total, the token generation event will see 41% of the initial number of MOO tokens generated (300 million), with the full allocation as detailed below.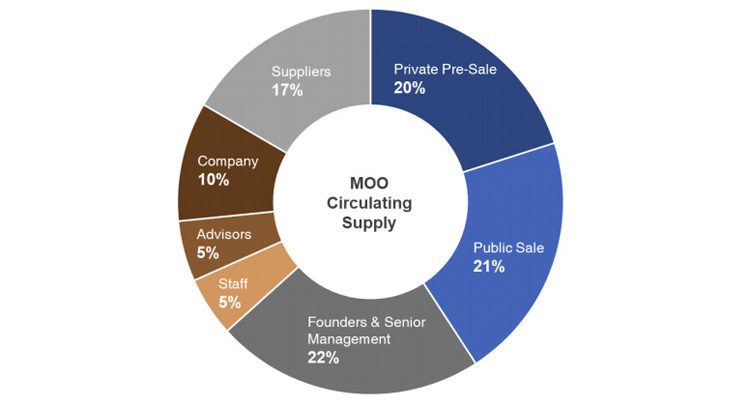 However, 200 million MOO tokens have been reserved for future sale. These won't be distributed for at least 12 months, and the annual number to be created will be controlled by a distribution committee.
In terms of the roadmap for the Moo store, this is expected to go live before the end of 2018, although additional features such as the ability to offer rewards to gamers and enable the trading of in-game items are expected until 2020.