Web3 gaming in the MENA region at PG Connects Jordan, 4-5 Nov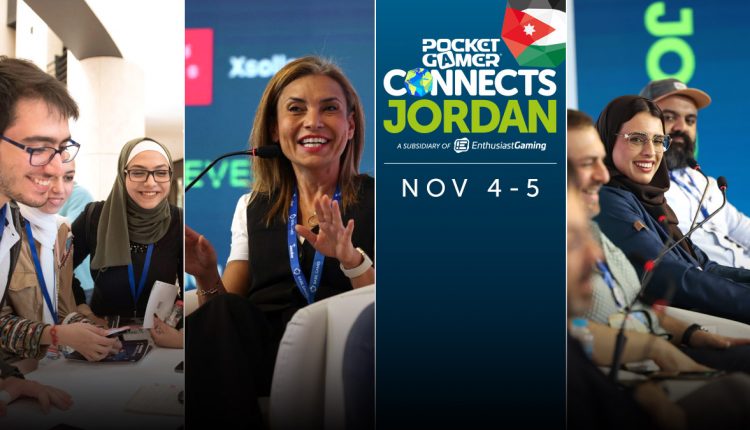 Register for PGC Jordan to connect with leading investors, publishers and developers before it's too late.
The leading B2B event for the global games industry, Pocket Gamer Connects, is returning to Jordan this November 4-5, for what will be our biggest show yet in the region.
Our Jordan conference is set to welcome games industry professionals and expert speakers from across the world to discuss the most pressing topics facing the games industry and the MENA region today.
Learn everything from setting up a studio to sourcing investment, and discover the latest disruptive technologies such as web3, blockchain and AI.
Among other speakers, The Sandbox Head of Growth TR & MENA Arslan Kiran will talk on the Building on Blockchain track.
Fringe activities
In addition to the conference, our fringe activities, which take place alongside the talks and seminars over the course of two days, are a prime opportunity to make connections with the wider industry.
Our team of experts will be offering you the chance to be matched with other attendees based on specific criteria. We match developers with investors, publishers with developers, tool makers with service providers and more. Plus there's the opportunity to get instant appraisal and feedback, media coverage and more from renowned industry experts in our pitching competition.
Don't miss your chance to sign up and be part of these fringe activities at no additional cost. The sooner you apply, the more likely you are to be selected.
Secure your ticket and become a registered attendee of PG Connects Jordan. Tickets are limited so don't delay.
What's going on around the show?
Investor Connector
Saturday 4th November 4, 10am-1pm
Investor Connector selects applicants for one-on-one meetings with established, credible investors and VCs looking to spend the money with the right partners.
Deadline to apply: Wednesday, October 25
The Big Indie Pitch
Saturday, 4th November, 12pm-3pm
Our regular event celebrating new indie games is back! The ever-popular pitching competition returns, with a chance for your game to win media coverage, instant feedback and a prize or two.
Deadline to apply: Monday, October 30
Publisher SpeedMatch 
Sunday, 5th November, 2pm-3pm
Our Publisher SpeedMatch sessions pair developers, speed-dating style, with leading publishers. Perfect for first contact meetings with new prospects.
Deadline to apply: Wednesday, October 25
The Big Indie Zone
Saturday + Sunday, all day
The Big Indie Zone is an exclusive expo area within the conference dedicated to indie developers and their games. Enter our indie competition and you could win an expo table for free.
Our Mid Term pricing offer for this unmissable show is now available – but not for long. Take advantage of this opportunity by securing your ticket to our biggest show in the MENA region yet.