Average value of blockchain game tokens declined 39% in Q3 2018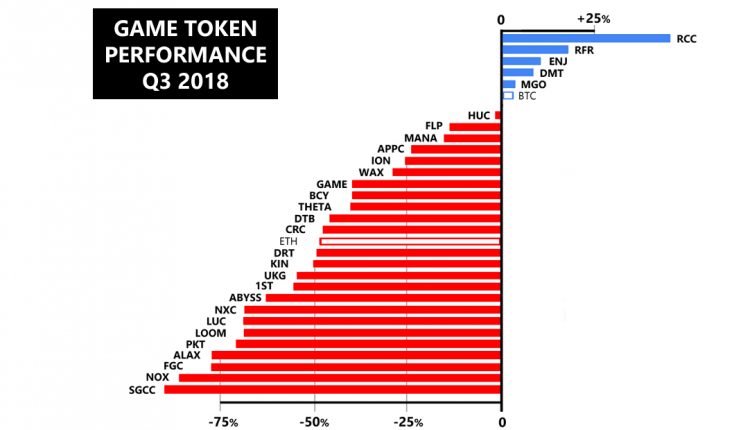 The impact of Crypto Winter continues
Three months on from our Q2 2018 review of game token performance, it's time to see how the past three months of cryptocurrency price volatility has impacted the blockchain game sector, at least in terms of dollar valuations.
The first point to note is the growth in the number of tokens that are sufficiently liquid it's possible to generate a price for.
In Q1 2018, 11 tokens were tracked, compared to 20 in Q2 and now 29 in Q3.
If nothing else, this demonstrates a dynamic market category in terms of companies reaching some level of maturity, even if – as we will see – they are still lacking live products and vibrant communities.
Some positive signs
And yet despite the collapse of Ether's dollar valuation, down 49% in the period 1 June to 30 September, five blockchain game projects came out positive.
The leader, by far, was Reality Clash (RCC), which since its September 2017 ICO has launched a store where token holders can purchase weapons, and soon will launch an exchange marketplace, and later in 2018, start testing its mobile location-based AR/VR shooter.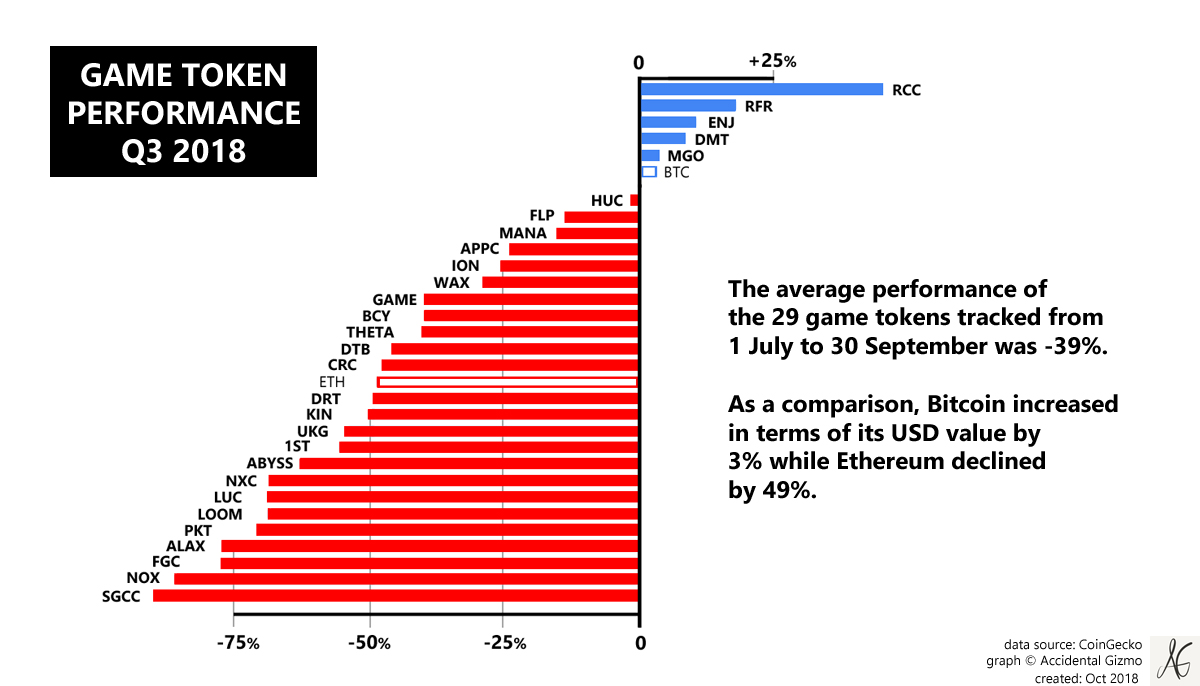 Other projects demonstrating some level of momentum which appeared to be reflected in their token price were community play Refereum (RFR) and game item ecosystem Enjin (ENJ).
The two other companies in positive territory, albeit for unclear reasons, were Dmarket (DMT) and Mobile Go (MGO).
Blood on the tracks
However – and it's a big however – the current 'Crypto Winter' has certainly had an impact, with 24 of the 29 game tokens in negative territory. Almost a third of them lost over 50% of their value against the dollar in these three months.
Now this isn't to say all these companies are doomed but this level of dollar value destruction will make it very hard for them regain their previous position.
More generally, looking at the Year To Date in terms of the 13 game tokens tracked since 1 January 2018, the wider impact of late 2017 cryptocurrency bubble is obvious.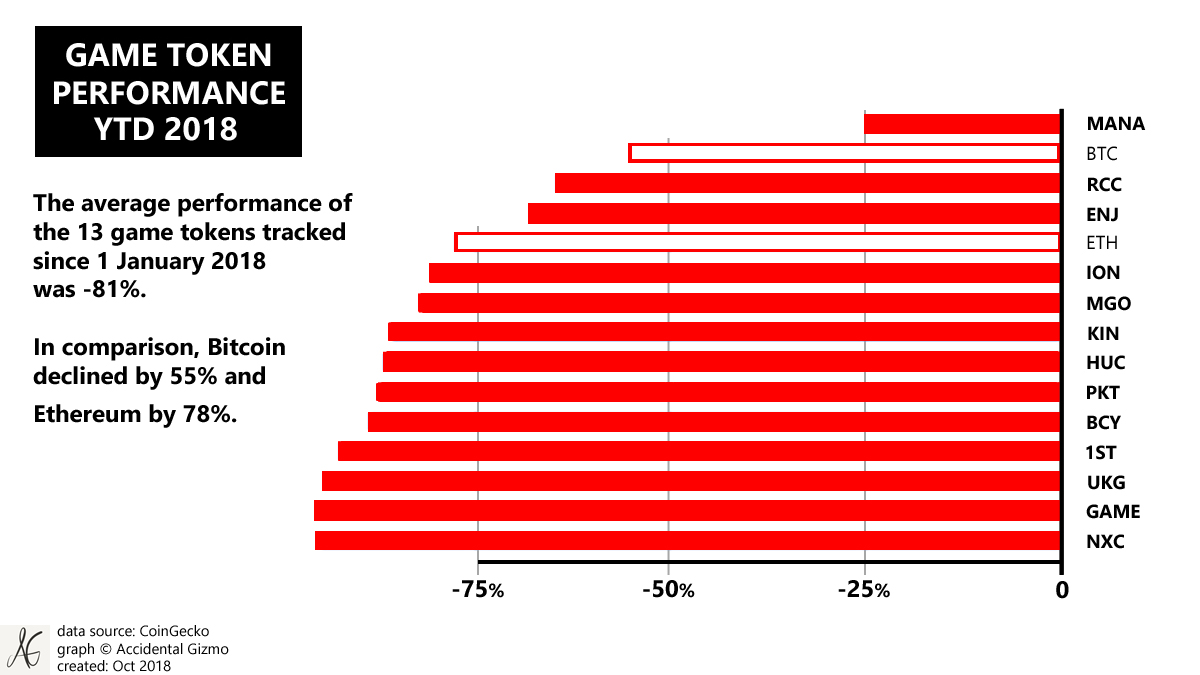 All 13 tokens have declined, with the 'least worst' performer being Decentraland's MANA token, down 25%. The average decline for the 13 tokens over the nine months is a whopping 81%.
Yet hope springs eternal so as demonstrated by the performance of Reality Clash's RCC token in Q3 and, more sporadically, the likes of Enjin's ENJ, Decentraland's MANA and Refereum's RFR, as blockchain game developers and game service companies find market traction and (shock, horror) utility, the basic mechanism for a token to increase in value remains.
Not that this should be considered investment advice, of course. The cryptocurrency market remains about as high risk as it comes: even in casinos the underlying odds are well understood.
No-one can say the same for a market in which the value of the oldest and most traded token – Bitcoin – remains as volatile as any other.
Continue the discussion in our Telegram group and don't forget to follow BlockchainGamer.biz on Twitter, Facebook and YouTube.