Value of blockchain game tokens declined 27% in Q2 2018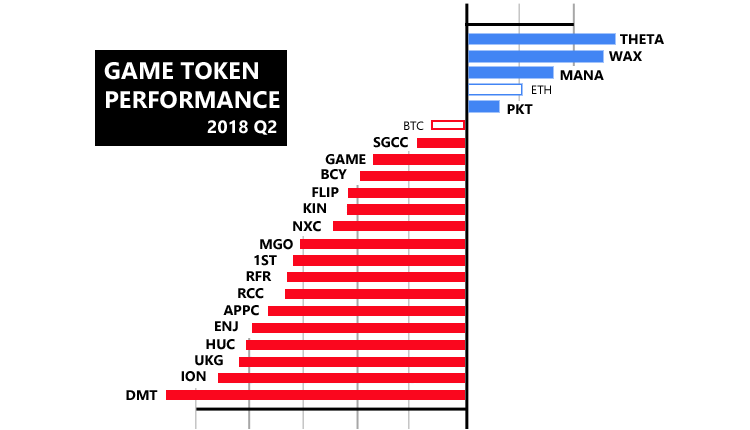 Only THETA, MANA and PKT rose
Three months on from our Q1 2018 review of game token performance, it's time to check how the ever-growing list has done in Q2.
Back in April, we looked at 11 game tokens.
That's now increased to 20 tokens; those that were liquid on exchanges before 31 March.
Blood on the tracks
In one sense, the news is better.
While the average performance across the 20 tokens is poor, down 27% on average, four of them have demonstrated growth, albeit from a low base in most cases.
The top performer was THETA, from Theta Labs, which is the token powering the in-process decentralized video stream platform currently used on the game site Sliver.tv. It was up 35%.
Decentraland's MANA token has also continued to build its momentum, up 21%.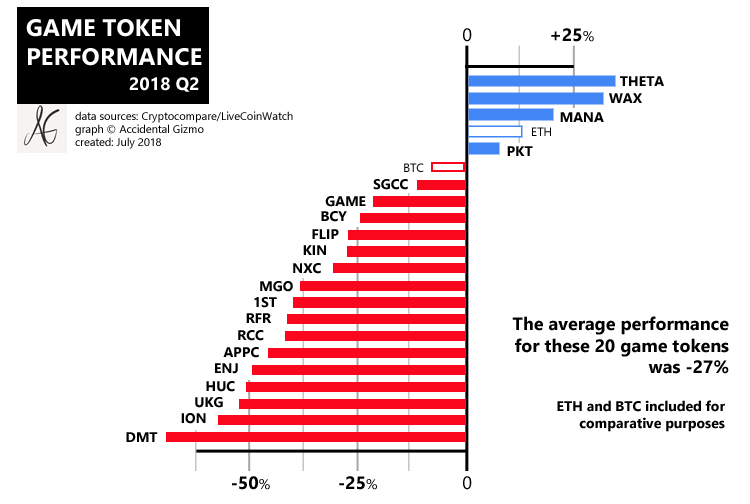 Demonstrating the complexity of the sector, and issues around sampling, the WAX token was up 32%. However, this appears to be have been the result of a short-lived rise over the past couple of days boosted by the early success of its VGO collectibles economy.
But whatever the reason, in the period of time between creating this graph and writing this story, the value of WAX has returned to slightly negative status.
More generally, compared to Ether and Bitcoin (slightly up and slightly down respectively during Q2), most game tokens performed badly, with new entrant Dmarket the worst performer, down 70%.
Looking at the past six months
And, if we take a step back and look at how game tokens have performed over the first six months of 2018 – H1 – we also see a lot of red, with the average decline of the 14 tokens tracked being 70%.
In that context, the performance of MANA and Reality Clash's RCC tokens could be viewed by optimists as being relatively strong.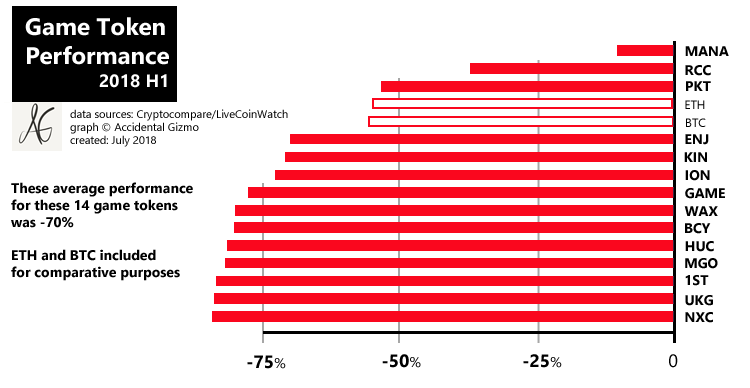 But the more general conclusion would seem to be the blockchain gaming sector in 2018 has yet to demonstrate any business that can create utility and hence growing value for their respective tokens.
Given the early state of the industry and companies, perhaps this is to be expected and hopefully over the next three months as the likes of Reality Clash, Decentraland, WAX, Playkey etc roll out more functionality we'll see more positive changes. I won't be holding my breath, though.
Don't forget to follow BlockchainGamer.biz on Twitter, Facebook and YouTube. You can also check out our Telegram news-only feed.