The average value of blockchain game tokens crashed 84% in 2018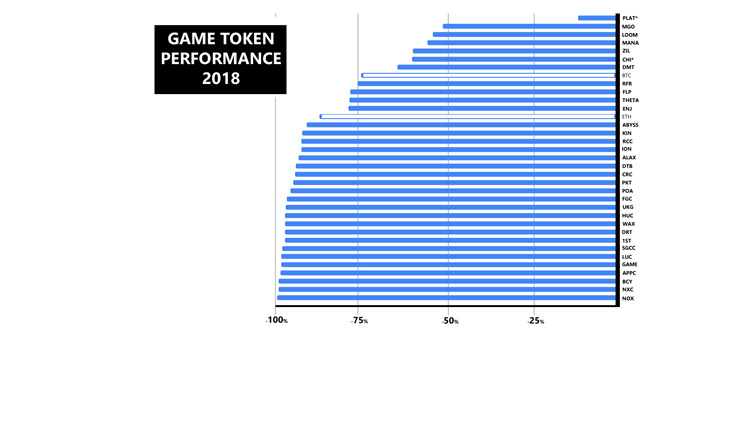 The ICO bubble burst and sentiment drained
Your reaction to the performance of cryptocurrencies during 2018 – 'fear and loathing' versus 'stuff happens' – likely says a lot about your belief system and your risk profile.
Bitcoin was down 75% and Ethereum down 87% against the dollar and many of the cryptocurrencies associated with blockchain games and game projects lost even more value.
Indeed, of the 33 tokens we tracked, the average performance was down 84%.
And although Q4 was particularly brutal, this was year-long trend; average value was down 56% in Q1, 27% in Q2, and 39% in Q3.
The 'best' performer in 2018 was BitGuild's PLAT token (down 16%) but it was only available on a couple of small exchanges for two weeks.
Making sense of chaos
This sort of implosion is impossible even for the most bullish blockchain game proponent to ignore, and already we've seen companies shifting their attention to other gaming sectors, while others are either slowing down or shutting down entirely.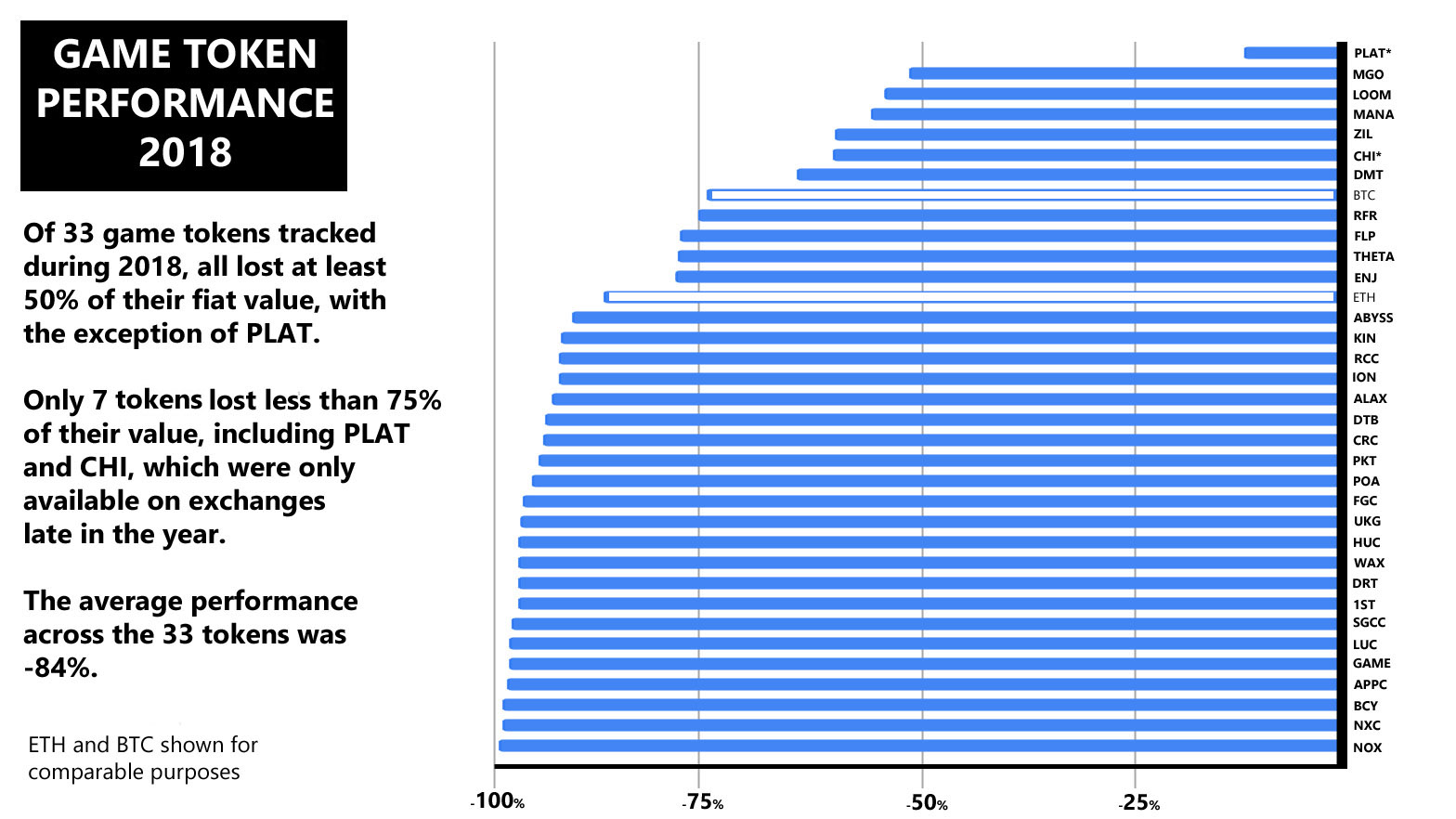 Of course, looking back at the ICO bubble that started in mid-2017 and which saw the redistribution of billions of dollars of crypto-inflated wealth to anyone with a website, whitepaper and Telegram channel, and it's absurd to think it could have viewed as the rational basis for any sort of long term valuation.
In that context, it's interesting (but perhaps not significant) to see that some of the most active blockchain game projects performed not as badly in relative terms.
Certainly the likes of Decentraland's MANA token and Loom Network's LOOM token, both of which are needed for those technologies to operate, 'only' lost 50% of their value.
Conversely, WAX, which is one of the top blockchains in terms of daily transactions but doesn't require the use of its token on its marketplace, lost 97% of its value.
Yet, drawing on the lessons of 2018, it's clearly dangerous to ascribe too much logic to what remains a highly nascent and speculative market. Instead let's see what lessons Q1 2019 has for us to learn.
Join us for two days of discussion about the blockchain game sector at Blockchain Gamer Connects London 2019 on 21-22 January.
And continue the discussion in our Telegram group and don't forget to follow BlockchainGamer.biz on Twitter, Facebook and YouTube.