How Everdragons is becoming a more expansive game thanks to POA Network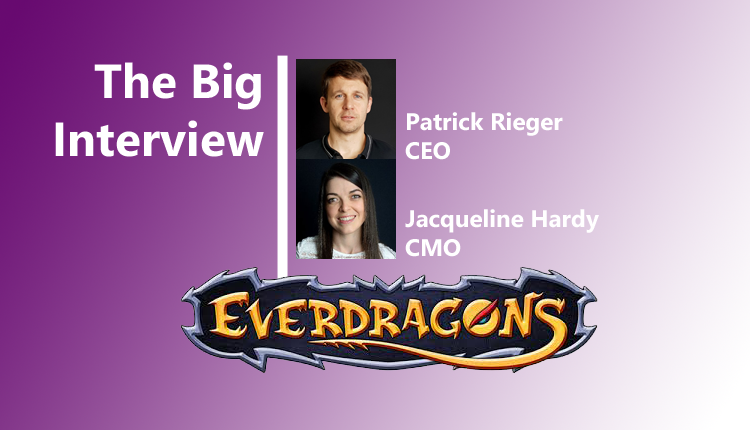 Patrick Rieger and Jacqueline Hardy explain
As with many blockchain games, the inspiration for Everdragons was the explosive launch of CryptoKitties in November 2017.
A year on, however, market sentiment is very different. Not that it's dampened the enthusiasm of Patrick Rieger (CEO) and Jacqueline Hardy (CMO), two-thirds of the game's founding team.
Blockchain is still in its infancy but it's evolving fast
"I believe blockchain games have a pioneering role to advance the use of blockchain," explains Rieger.
"They provide a new economy for games, and empower and protect a player's investment in the in-game items they buy."
Overcoming congestion
Although Rieger, Hardy and CTO Marc Scherer self-define as gamers (also a coder in Scherer's case) and they had a prior interest in cryptocurrencies too, they didn't have any experience in professional game development.
Indeed, their work on Everdragons to-date has been bootstrapped. And perhaps these two elements have kept the project moving forward while other have been buffeted by the prevailing headwinds.
Certainly launching Everdragons on the Ethereum blockchain forced the team to make some quick strategic decisions.
"Ethereum was the obvious choice for Everdragons originally," Hardy says.
"We were aware of the scalability issues but on the day our eggs were planned to hatch into ERC721 dragons, the gas price went from 0.7 to 30 gwei."
It was the start of days of congestion on the network with the finger pointed at Chinese exchange FCoin, which was running a badly structured voting process for coin listing. Everdragons' hatching event was delayed a week and the team started thinking about the game's future direction.
"We put together a list of alternatives including the likes of EOS and TRON but back then they weren't stable in terms of their mainnets," Reiger says.
Instead the search moved onto Ethereum sidechains of which a dozen were considered before the team decided on POA Network.
"They didn't have the most marketings but from a developer's point of view it was the most advanced and used the same tech as Ethereum," Rieger explains.
Migration issues
Despite being a separate blockchain with a difference consensus mechanism, the POA Network is heavily linked to Ethereum thanks to its bridging approach, which means it also operates like a side-chain.
That made it relatively easy to migrate Everdragons to POA, although the game's marketplace (and some other functionality) currently spans both blockchains so players can trade using POA or ETH.
"It look a couple of weeks including testing," Rieger confirms of the migration process, although walking players through the experience of taking their Ethereum assets onto a new blockchain also required its own level of attention to detail.
In this context, it should be noted Everdragons' relative small player base has made this process easier than it would be for higher volume titles.
they're shocked how fast and cheap it is to play the game on POA.
"It only take two clicks to move your dragons over and you can still use wallets like Metamask or Trust," Hardy points out.
"The reaction from players has been positive; they're shocked how fast and cheap it is to play the game on POA."
Full speed ahead
Of course, there is an issue that because POA is a separate blockchain, players now have to buy the native POA token rather than using the more widely used ETH in order to play the more expansive features the team are adding (and will continue to add) to Everdragons.
These include the addition of cub dragons (like pets), the requirement to feed dragons, plus an achievement and leaderboard systems which are linked into dividend rewards for the top players. Players can also win gold coins in the mini-games, which can be used to buy food for their dragons or sold back for POA tokens.
The overall outcome then is positive in terms of the game's user experience and future roadmap, but not without its problems. In this way it could, perhaps, be seen as a mirror for the wider issues of bringing blockchain's potential to gaming and created a viable audience of players.
"Blockchain is still in its infancy but it's evolving fast," says Rieger.
"And we believe we can make an impact," Hardy ends.
You can keep up-to-date with Everdragons via its Medium or check out the game here.
And continue the discussion in our Telegram group and don't forget to follow BlockchainGamer.biz on Twitter, Facebook and YouTube.