Track breakdown – Blockchain Basics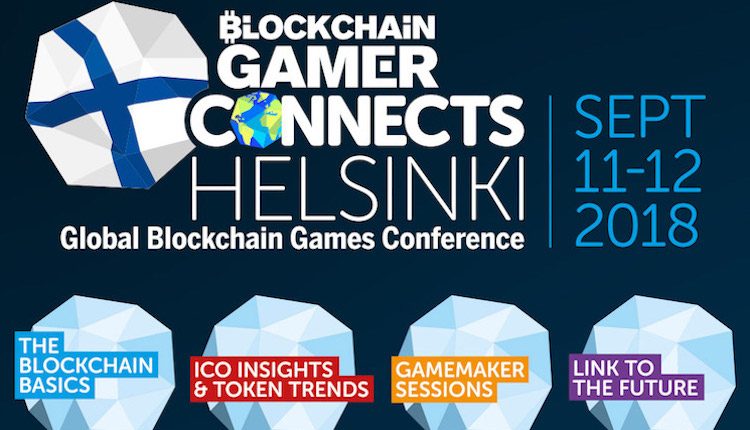 Breaking down BGCH's tracks
We're days away from the much-anticipated Blockchain Gamer Connects 2018 in Helsinki.
Along with playing host to nearly 40 speakers and over 18 hours of content, the conference is split into two days with four tracks, providing essential insight for anyone from newcomers to the blockchain gaming world, to highly experienced developers curious about what the future holds.
Here, we'll give you a break down of what tracks to expect from Blockchain Gamer Connects this year in Helsinki.
BGCH tracks – Blockchain Basics
---
Tuesday, September 11th
2:00 – 2:20 pm – Keynote: Current State Of Blockchain Game On User Acquisition And Retention
Hosted by Nick Wu, Founder, and CEO of DapDap, the keynote will cover the current landscape of blockchain gaming, and how various successful games are at retaining players and obtaining new ones.
---
2:20 – 2:40pm – Keynote: Alto's Vision Of An Item-First Economy And How It Will Revolutionise Games On The Blockchain
Hosted by Gabby Dizon, the Co-Founder, and Chairman of Alto discusses the company's position as an ecosystem for developers and gamers, and how it will act as an innovating force for gaming on blockchain.
---
2:40 – 3:00 pm – How To Valorise Your NFTs
In this talk, attendees will be taught by Karin Mikluha, the International Development Officer for Auctionality, on how to ascribe an implicit value to your digital assets / Non-Fungible Tokens (NFTs).
---
3:00 – 3:20 pm – Mobile Apps Stores In The Blockchain Age
As the Vice President of Jam City, Jeremy Horn offers a great deal of experience and insight into the world of mobile gaming. And in this talk, Horn will be shedding some light on the future of mobile app stores as blockchain evolves and enters the mainstream.
---
3:20 – 3:40 pm – Soccer Manager Crypto – True Blockchain Gaming
Hosted by the Co-Founder and CEO of Soccer Manager talks about the way in which Soccer Manager Crypto utilizes blockchain to its full effect.
---
3:40 – 4:00 pm – Reality Clash – One Year On
Headed by Tony Pearce, the Co-Founder of Reality Clash discusses the remarkable year that the company has had thus far, and what is in store for it as a developer.
---
4:00 – 4:20 pm – Designing Actual Games That Use Blockchain Technology
Hosted by the Founder and Leader of Deckbound, Gareth Jenkins discusses how video game developers can effectively put blockchain to work in their game, enhancing the players experience in the process.
---
4:20 – 5:00 pm –  Blockchain Game Investors – Why Do They Care?
Hosted by Shirley Lin, Co-Founder and Chief of Business Development for DOGI, Joony Koo, Partner at Block Crafters Capital, Dean Anderson, Co-Founder and CEO of Gamestatix, and LK Shelley, Managing Partner of Affiniti Ventures.
This conversation between highly experienced venture fund managers and partners, along with blockchain developers, this talk will center around why investors care about the developments taking place in the blockchain gaming world, and what entices them about it.
---
5:00 – 5:20 pm – Adrealm Will Change The Advertisement Industry
Hosted by Mei-Lei Berlit, General Manager for Europe for AdRealm / UPLTV talks about the influence that AdRealm will have on the world of advertisement.
---
Wednesday, September 12th
10:00 – 10:20 am – Bringing Blockchain Worldwide
Hosted by Robby Yung, Animoca Brands's Robby Yung discusses how awareness of blockchain is being raised globally and examines his company's input to the cause through work with HTC and Criptokities.
---
10:20 – 10:40 am – Blockchain Adoption In Gaming – Enhancing In-Game Items And Economies
Hosted by Benjamin Robson, Senior Business Development for GamerToken, Robson hopes to inform new and experienced developers on how to adopt blockchain for gaming, while enhancing its in-game assets and the economy as a whole.
---
10:40 – 11:00 am – Bringing Blockchain Into Games
Hosted by Rob Nicholls and Kris Vaivodsd of Hash Rush, the two speakers discuss just how developers can effectively implement blockchain into their games.
---
11:00 – 11:20 am – Blockchain Games Vs. Games Using Blockchain
With John Linden, President and Advisor for Seismic Games and Niantic, taking the helm of this talk, he will be breaking down what separates a blockchain game, from a game that uses blockchain, and how developers may better incorporate it into their games moving forward.
---
For more information about Blockchain Gamer Connects, check out the full schedule right here.
Continue the discussion in our Telegram group and don't forget to follow BlockchainGamer.biz on Twitter, Facebook, and YouTube.