Unlocking the resale value of PC games
With in-game asset exchanges an established market that's proving quick to adopt blockchain, it's no surprise some companies are looking to extend the model into game distribution.
Robot Cache hopes to provide a win-win for PC gamers and developers
There are already some interesting approaches emerging in terms of alternative mobile app stores – GPlay, ALAX etc – but it's the PC-based business that are proving more ambitious.
One such is Robot Cache, which has been founded by industry veterans including Lee Jacobson (Atari), Brain Fargo (Interplay/Inxile) and Mark Caldwell (Disney).
Currently pre-TGE, it's planning to launch its eponymous decentralised PC game and resale platform following its token generation event, which is planned during 2018 Q2
Buy, play and resell
The core element of the Robot Cache platform is enabling the resale of PC games.
Gamers will purchase games using the platform's ERC-20 token IRON, with up to 95% of the money going direct to developers.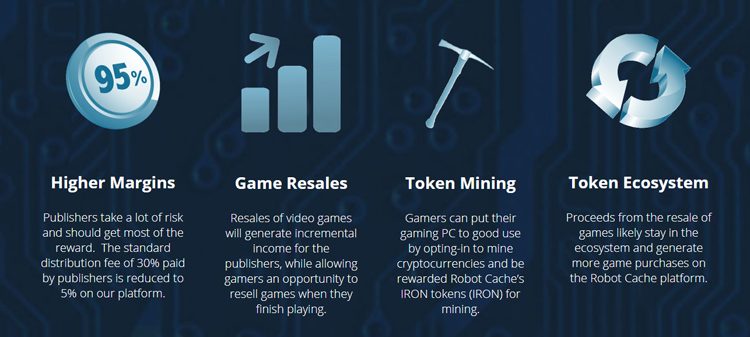 Each game purchase generates a unique game-based key token, which enables access to the game in question through a proprietary wrapper. Once a player is finished, they trade this token for IRON, gaining 25% of the proceeds.
The remainder is shared between Robot Cache (5%) and the game's developer (70%).
Post-sale recycling
The Robot Cache platform is accessed either through a simple web interface or a PC client. The latter enables players to mine cryptocurrencies by pooling their processing resources.
Opting into this 'proof of gaming' system rewards players with additional IRON, something they can also gain by inviting other players to join Robot Cache through the platform's affiliate system.
In this way, Robot Cache hopes to provide a win-win for gamers and developers, who respectively havspent a lot of money on digital games they will never play again but can't resell, and who experience slow payment cycles and high transaction costs when operating on platforms such as Steam.