La Flor Dominicana auctions off NFTs at prices reaching $90,000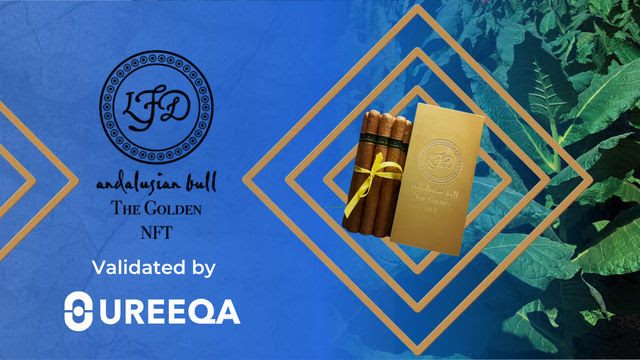 La Flor Dominicana and UREEQA launched a pretty rare NFT drop earlier last week. For seven people (total) across the world, the drop offered a rare chance to become an owner of the 'Andalusian Bull' – The Golden NFT – which would give them the real-world power to buy up to 70 cigars a month.
Akin to other NFTs that bridge the gap between physical and digital, the original buyers would also receive a personalised 50-count Gold Bullion Humidor filled with cigars. The Andalusian Bull has its own appeal – being a special LFD cigar that is currently not available on the mainstream market.
The Andalusian Bull; which pays homage to Spain, the birth country of company founder Litto Gomez and was named Cigar Aficionado Magazine's Cigar of the Year in 2016.
Much as the buying power and real-world prize would suggest, the NFT drop and auctions have been fierce. According to the two companies, prices have reached as high as $90,000, with auctions still ongoing here.
This NFT drop represents just the latest in a line of niche, but exclusive product line up to enter the world of Web 3. Months back, we reported on Napa Valley's NFT announcement and partnership, for example.
"Personally, it's my favorite cigar," said Tony Gomez, Vice President of La Flor Dominicana. "There is just something special about the Lonsdale, I think it's the most beautiful cigar size, and when combined with the Andalusian Bull blend there emerges an elegance and depth of flavour that is nothing short of spectacular."
Out of a population of billions, being one of the owners of these seven NFTs, La Flor Dominicana has also guaranteed that those original buyers will be the only ones in the world who can buy The Golden directly.
In collaboration with UREEQA, buyers can also be assured of a high level of security and safety within its NFT marketplace.
In case you're curious, visit the marketplace here.