Video: Reality Clash's Tony Pearce on the future of blockchain gaming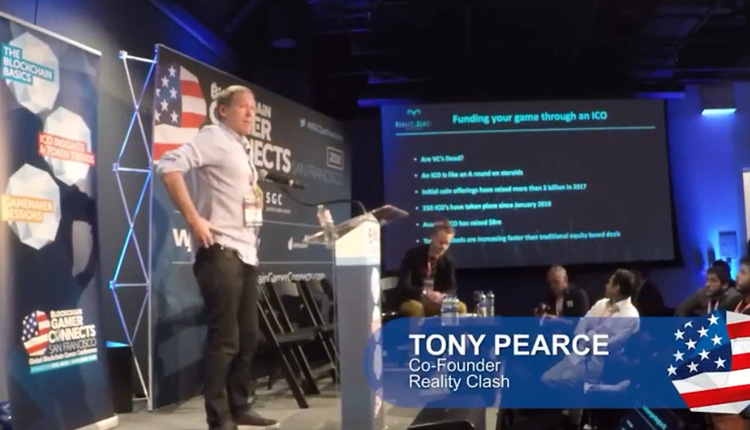 Trends from Blockchain Gamer Connects San Francisco 2018
Some were bullish, while others provided alternative points of view, taking a wait-and-see approach during these early days of blockchain technology.
That was the conclusion from Blockchain Gamer Connects San Francisco 2018, where key insights were shared across companies from triple-A to indie.
Looking to the future
One with a bullish view on the future was Tony Pearce, mobile gaming veteran and co-founder of Reality Gaming Group, which was one of the first companies to complete a blockchain game ICO, raising $3.5 million for its mobile AR shooter Reality Clash in summer 2017.
He discussed the 380% increase in the game's RCC token value upon the recent launch of its tokenized armory, and the likely impact its October release will have as investors finally get to use their exclusive coins and weapons in-game.
Most interesting, however, was the timeline he presented for industry adoption of blockchain
In the next 12 months
Improved UI will make player onboarding smoother
blockchain mechanics will move to the backend
the first blockchain protocols will handle faster transaction speeds and fees will come down
Players will also start to understand most digital things they historically purchased were licenses and they really didn't own anything
In the next 5 years
Players will start taking their characters and items between games
There will be new game mechanics based on smart contracts
Digital rights ownership will start to change
Customers will retain ownership and legacy between games
In the next 10 years
Item trading will move from grey market to becoming an integral part of a game's design
AR VR avatar ownership will rise
Gamers will be talking less about blockchain because secured assets will become common
Consumers will go from understanding true digital ownership to demanding it
You can check out our top 10 trends article from Blockchain Gamer Connects San Francisco here.
Blockchain Gamer Connects will return in Helsinki, Finland on 11-12 September. You can find out more details here. 
And don't forget to follow BlockchainGamer.biz on Twitter and Facebook.