Entries open for blockchain developer competition, $150,000 prize pool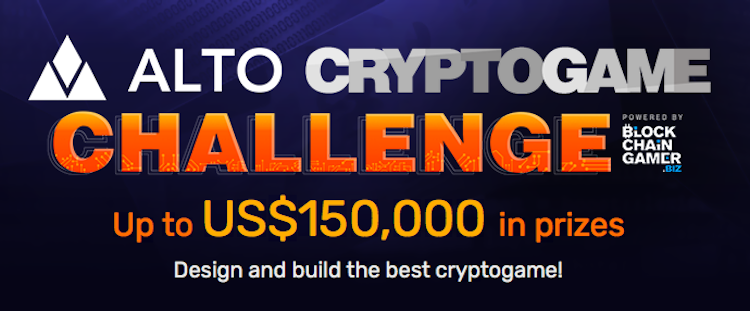 Could you win the Alto Cryptogame Challenge powered by BlockchainGamer.Biz?
We're thrilled to announce that entries are now open for the Alto Cryptogame Challenge powered by BlockchainGamer.Biz.
The competition has a $150,000 prize pool and is open to blockchain game developers who can demonstrate the interoperability of game items.
To take part, you'll need to design a next-gen game that uses Alto's Challenge Loot Cryptoitems and register your pitch here by June 22nd.
Five winners
The five entrants that most impress the judges will win $10,000 each and move on to the next stage to build a working demo on the Ropsten Network.
hese five demos will then compete for the grand prize worth $70,000, comprising $20,000 cash, $30,000 marketing support including an Initial Item Offering, and $20,000 value in Alto coin. Second place also wins $10,000 plus $10,000 Alto coin, while third takes $5,000 plus $5,000 Alto coin.
All five finalists will be invited to showcase their demos at Blockchain Gamer Connects Helsinki this September, with the winners being announced on the last day of the show, September 12th.
Multiple game worlds
Chase Freo, CEO of Alto.io said: "The Alto Cryptogame Challenge will be the first of the many initiatives we have for the game development community all over the world. We seek to push for an ecosystem where cryptoitems can be interoperable across multiple game worlds.
"With this contest showcasing just that, we're very excited for the projects that emerge from it. So we are calling on all developers to help us build and achieve this together."
Steel Media's CEO Chris James said: "We're very excited about blockchain's potential and believe it could be as important as mobile. Through our site and events we are committed to supporting the growth of this space and are looking to work with the brightest and best pioneering companies such as Alto. This competition offers a great opportunity to demonstrate some of the key functionality that blockchain will allow and we're delighted to get behind it and showcase the winners at Blockchain Gamer Connects Helsinki."