WRLD, WEMIX and RON amongst top gaming tokens during 2023 so far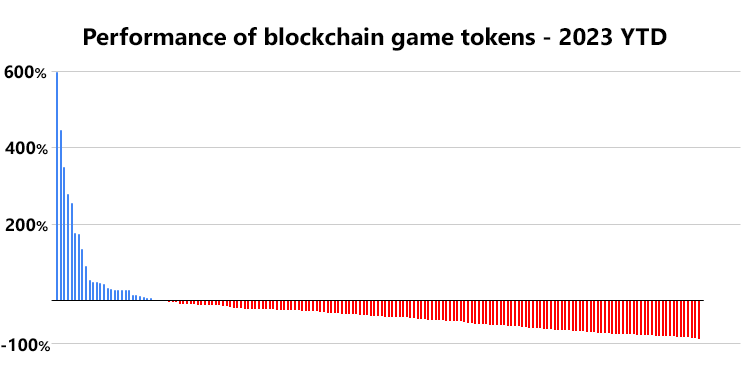 BlockchainGamer.biz editor-at-large Jon Jordan has been writing about the games industry since 1999. He predicts blockchain is the next great disruption and in our weekly column he shares his views on everything web3 games. You can read more in his Substack.
We're over three quarters of the way through 2023 and while I guess most people would agree it hasn't been a good year for crypto, it's been better than 2022 and it could have been a lot worse.
And maybe it will still end up so!
Nevertheless, I hadn't crunched the data on the roughly 185 blockchain gaming tokens I irregularly track for awhile and thought it was *that* time again.
I really didn't know what to expect. The likes of BTC and ETH are up year-to-date but also down a large chunk in terms of their 2023 peaks.
Taken as an average, however, those 185 gaming tokens were down 26% but the price of eight of them have increased more than 100% since 1st January 2023, with the top performer up 599%.
But, as ever, those top performers are something of a mixed bunch, at least in terms of what I know (or could ascertain) about the veracity of the projects.
That said, I'm happy to pick out
WRLD (aka NFT Worlds, now renamed Hytopia),
Wemix (Wemade's blockchain gaming platform), and also
RON, the governance token for Sky Mavis' Ronin blockchain
as decent projects, worthy of further investigation.
In their own ways, each is solid, building out ecosystems that have the potential to engage with large audiences.
Of course, this isn't to say that the performance of these — or any — tokens is causally related to these activity, just that these are projects doing real things; something that I don't think is the case for all of these top performing tokens.
For example, in a bear market with low liquidity, any rising token prices could begats further upwards movement for a time, just as noise can beat out signal.
It's also worth noting that over longer time frames — as listed in the OG ROI and CoinGecko start ROI columns — many of these tokens have been heavily beaten down.
Anyhow, the list of 2023 YTD's top performers is below: obviously not investment advice.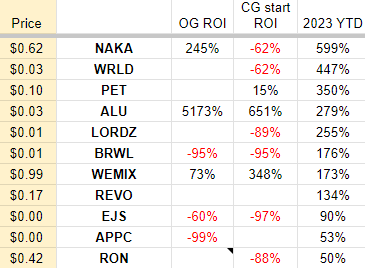 Sign up to our Substack, follow us on Twitter, and connect with us on LinkedIn.