Seattle's video game market ranks number one in the United States – learn more ahead of Pocket Gamer Connects Seattle 2023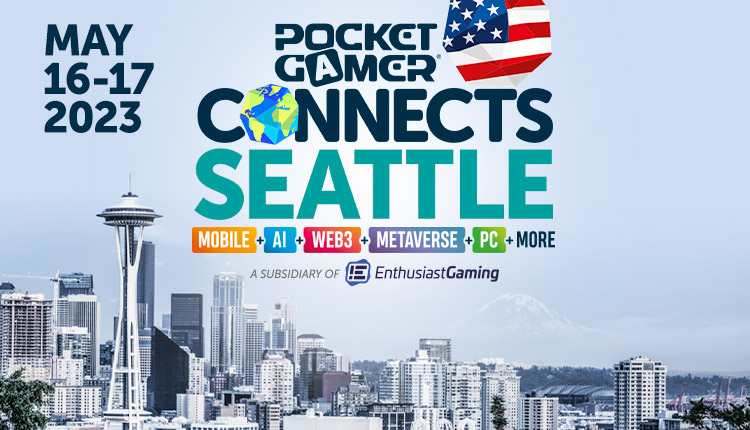 Uncover the potential of the American and local game industry market ahead of Pocket Gamer Connects Seattle this May 16-17
Our return to North America is coming up, and we couldn't be more thrilled to return to the magnificent city of Seattle for another incredible year of networking, discovery and pitching opportunities.
We're coming back to the States this May 16th to 17th, and we can't wait to come back to our favourite U.S. city for our next show. Pocket Gamer Connects Seattle is bringing together over 1,000 attendees from the games industry all over the globe to network, pitch and learn from over 150 of the games industry's top authorities. The event will cover mobile, PC, console, web3, AI, AR and so much more across multiple track rooms. Our brilliant speakers and panellists will deliver insightful content into design and development, monetisation and growth, life as an indie, new technologies, company culture and loads more — you won't want to miss a minute of it!
Ready to secure your seat at this unmissable conference today? You can book your ticket now if you head over to our Eventbrite. We have a very special discount code for you today to make the most of your PG Connects experience for the lowest price available. Our Super Early Bird discount is only available for a limited time, so hurry and book your ticket now before time runs out! You can save up to $390 on your ticket, what's not to love?
Today, we're taking a look at Seattle's history in the games industry, its position in the U.S. market and the nation's market as a whole. Ready to get to know a little bit more about our favourite city in the U.S.? Keep reading for all the insights!
The history of the Seattle games market
The title of top games industry market in the U.S. is no easy feat, and it's been a long journey there for Seattle. This prestigious title is based on the city's thriving gaming culture, broadband internet quality and incredible career opportunities for gamers and developers. That's right, it's not just because the inspiration behind Nintendo's iconic Super Mario Bros., hailed from Seattle.
Far before Nintendo and Super Mario, Seattle has been home to other technologically advanced, future-gazing companies such as Boeing. Decades ago, Boeing was creating virtual simulations and interactive media in the area. In 1979, technology corporation Microsoft moved its headquarters from Albuquerque to the Pacific Northwest, specifically Redmond, Washington, a mere twenty minutes outside of Seattle. Shortly after in 1982, Japanese games industry corporation Nintendo moved their headquarters over from New York to Redmond, as well and the tech bubble began to truly grow in the area. By 1984, the tech industry in the area was truly flourishing, with Microsoft founder Bill Gates appearing on a Times story declaring Microsoft a sizzling company and noting he alone was worth over $100 million. In 1996, former Microsoft employees founded the Valve Corporation, releasing Half-Life to widespread acclaim for forever changing and evolving graphics and immersive storytelling in video games. Within two decades, the innovation in Seattle was going far beyond blossoming – the city was establishing itself as a massive superpower for technological innovation inclusive of a thriving games industry.
The Seattle games industry today
Many Seattleites work in the industry and have done so for several decades now. Companies such as Microsoft, Nintendo, Valve, Wizards of the Coast, Big Fish, Twitch and many, many others employ over 23,00 people and generate annual revenues of over $28 billion. This makes up a significant portion of the state's total of nearly 49,000 game industry employees.
There is no shortage of talent in Seattle and the Washington area. Both of the two largest cloud computing companies in the world call Seattle home, and over 150 video game companies are actively creating new immersive gaming experiences for players from the area. The key to the impressive games industry workforce and its growth is planning ahead for the future, and many educational institutions in the area know how essential it is to provide curated content specifically for those aspiring to work in the games industry. There are 10 different higher education institutions in the region with dedicated tracks for gaming and design. By nourishing the future of the games industry via job and educational opportunities, Seattle's cementing its place as the go-to city for those with games industry aspirations.
Into the West Coast
It's not just Seattle or the state of Washington that the games industry is highly present in. Zooming out into the whole of the West Coast of the U.S., you find the one state that's ranked even higher by total video game industry-related economic effect. California leads the nation at the number one spot for economic impact from the industry. A study by the Entertainment Software Association (ESA) in 2020 showed that the California video game industry generates a whopping $51.8 billion annually. The industry also accounts for over 218,100 jobs in California, and these remarkable numbers are just an example of the massive impact the industry has on the entirety of the West Coast of the U.S., as well as the U.S. as a whole.
When looking at the top cities in the U.S. for game development, the West Coast makes up most of the lists. According to the Game Industry Career Guide, the top development cities in the U.S. based on numbers of developers and publishers include San Francisco, Los Angeles, Seattle, Santa Monica, Irvine, Bellevue and Portland – all of these are located in not either Washington or California, or the big games industry hubs in the West Coast. You can be certain that many of these leading companies and developers will be present at our upcoming show in Seattle, and we absolutely can't wait to see and learn more about the presence of the games industry in the West Coast.
On the American games market
Let's start with the numbers, shall we? According to the ESA, over 214 million Americans play video games, 64% of U.S. adults and 70% of those under 18 play video games on a regular basis, and the average age of a gamer in the U.S. is between 35 and 44 years old. In 2021, the United States video games market size reached $30.4 billion in 2021. This number is expected to grow to an incredible $48.2 billion by 2027.
What's the predicted growth looking like? The U.S. video game market size is expanding at a rate of 7.9% during 2021 to 2027. This incredible expansion is attributed to the increased adoption of smartphones, mobile opening new opportunities for gaming and the industry's ready willingness to adapt to the increasingly social dimension of gaming. The increased gamer average revenue per unit is also a welcome change that is helping boost the market growth.
Further, innovation and growth in the U.S. video game market was fueled due to the COVID-19 pandemic accelerating changes and increasing player demand for social and community-based games in order to unite with friends and family. Along with this, demand for consoles have increased and the popularity of mobile gaming is only growing. Nearly one in four video game developers predict mobile will outgrow all other types of games by 2025, which exceeds projections for both console games and even the metaverse. While the number of U.S. digital gamers using desktop or laptop is holding strong at 94.2 million, this is expected to decrease to 89.3 million by 2026 – the biggest decrease expected per device. There are key opportunities of growth for video games companies as well, particularly with cloud-based gaming systems, enhanced mobile offerings and social media features that can enable the feeling of community for American players now used to either working from home or not seeing loved ones as often in person.
Book your ticket now (with a special discount!)
There's no time to waste! Head over to our official Seattle Eventbrite and secure your tickets today. You can currently save up to $390 on your conference ticket using our super limited time Super Early Bird discount, and you won't want to miss out. Don't wait too long or the amazing savings might be gone!