Arts DAO Fest launches in Dubai in March 11, 2023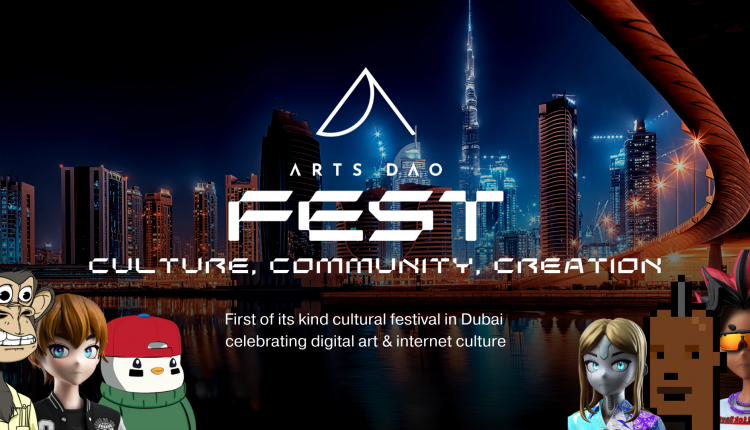 Arts DAO – one of the largest NFT communities in the Middle East, will hosts the region's first web3 festival – the Arts DAO Fest on March 11th. The primary goal of Arts DAO Fest (ADF) is to celebrate NFT and internet culture, which were pioneered in the United States by groups such as the Crypto Punks and the Bored Ape Yacht Club.
Additionally, there will be a platform where leading companies will share their knowledge and perspectives on the future of blockchain, NFTs, and decentralized payments, as well as a network for developers, business owners, and investors to connect and work together on new projects. ADF will also give UAE Web 3.0 community members a chance to gather and experience NFT culture in a way that hasn't been done before.
Anas Bhurtun, Co-Founder and CEO of Arts DAO, comments, "We believe that internet culture is reshaping every aspect of our personal lives, including the way we consume culture, obtain and own personal assets, our experiences, and even our identities." "We have created Arts DAO Fest to empower all demographics and audiences, but in particular to showcase to GEN-Z and millennials how to build their businesses and brands in this new digital era."
In addition to offering educational resources, the event will also encourage audiences to experience and engage with a broad spectrum of NFTs. These include community activities like art exhibits, digital fashion, avatars and even live mintings. According to the team, it will also feature shared virtual environments in VR and AR.
Along with all of this, the event will also feature world-leading speakers in the field of blockchain, NFTs and Web3 and have supporting acts from live musicians, DJs, and more.
Starting on March 11, 2023, and running from 11am until 9pm, the Arts DAO Fest will be hosted at the 25H Hotel.