Blockchain Gamer Connects San Francisco 2018 schedule is live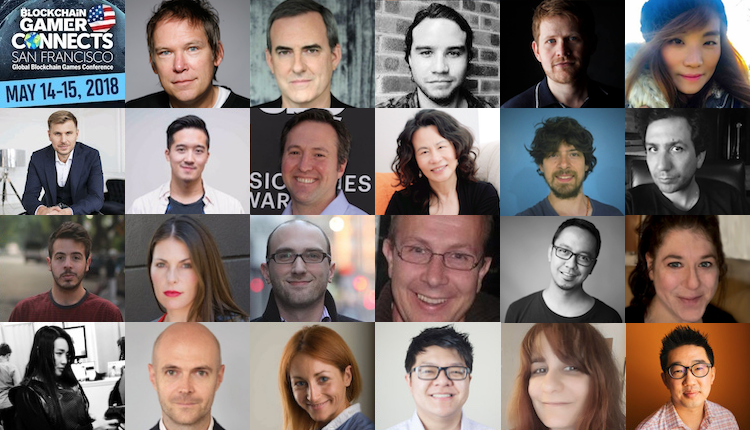 The full conference schedule for Blockchain Gamer Connects San Francisco 2018 May 14-15 is now live!
It's an amazing line-up of speakers for the show's debut, featuring 40 pioneers across four tracks combining blockchain and video games to change the way we play forever. Over the course of two days, you'll be able to hear first-hand from these thought leaders as they explain how they made money from blockchain games – and how you could too!
The conference content across the four tracks has been designed for all levels of experience, from blockchain beginners to crypto connoisseurs:
The Blockchain Basics
If you're a games developer curious to find out more about how to integrate blockchain mechanics in your project, then this is the track for you.
Don't miss: CryptoKitties creator, Benny Giang, kicks off day two with a Superstar Session explaining his experience of creating his breakout hit and explore the notion of tokens as gaming.
Gamemaker Sessions
Learn from the triumphs – and mistakes – of developers who are already eyeballs-deep in this exciting sector so you can bring their experience to bear on your own blockchain game.
Don't miss: The panel session, Using Tokens To Build A Platform, featuring Ulas Bilgenoglu, Radmule; Doug Dyer, Terra Virtua; Dean Anderson, Gamestatix; and Kieran Farr, Decentraland.
ICO Insights And Token Trends
Exploring future integrations of blockchain and games, learn how to create and manage a currency before, during and after an Initial Coin Offering.
Don't miss: Tony Pearce from The Reality Gaming Group's KYC (Know Your Crypto) – The Good, Bad And Ugly Of ICOs
Link To The Future
An essential track for anyone keen to find out more about the future of blockchain and the emerging gameplay mechanics that will inspire the next generation of blockchain games. These seminars will identify today's top trends and explore where the industry will go next.
Don't miss: The panel session, The Future Of Blockchain And Its Use In Games, where Rachel Cook, Seeds; and Koh Kim, Blockchain Advisor join the rest of the panel to look at how blockchain will be used to innovate game design, community building/rewarding, and even what regulation might look like.
That's just a small selection of the incredible speakers who will share their insight with the audience May 14-15. These sessions will be joined by more trailblazing talks throughout both days from the likes of WAX, Super Game Chain, PlayTable, BitFlare, Refereum and Lucid Sight.
To find out more about the amazing speaker roster, check out the full schedule – and keep an eye out for the latest additions and updates in the run-up to the show. 
Networking, pitching and Pocket Gaming
But there's more to the event than the packed conference schedule, with networking opportunities everywhere you look, from the free Pitch & Match meeting organiser and Speedmatching developers with publishers to the Global Connects Party.
There's also a live pitching roadshow, Indie Pitches, the Indie Showcase area – and that's before you even think about the larger Pocket Gamer Connects conference. Your ticket gets you into both shows.
Use code BGBIZ10 for a 10% discount if you book now!