SF Blockchain Week: The Ultimate Guide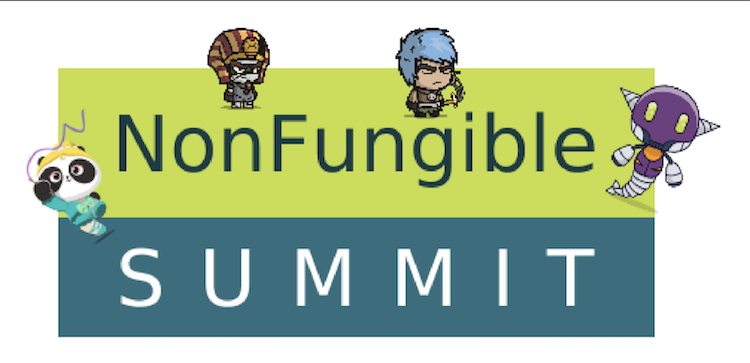 Featuring Bill Clinton, Vitalik Buterin, Naval Ravikant, Michael Arrington, Sam Lessin & Arianna Simpson
SF Blockchain Week kicks off today, Monday, October 1 in San Francisco, with a keynote from U.S. President Bill Clinton at Swell 2018, and concludes Friday, October 12, at the NonFungible Summit co-sponsored by Blockchain Gamer, a day focused on the design, use, applications and potential of nonfungible tokens for the Ethereum developer community.
Yes, SF Blockchain Week actually runs two weeks because one week is just not enough for this epic cryptotown.
Below are highlights of the panels, parties, and performances. Tweet me your adds at @contentnow. Enjoy!
---
Monday, October 1
When: 11–12pm
What: Bill Clinton, 42nd US President
Where: Swell 2018 by Ripple
How: https://swell.ripple.com
When: 1–2pm
What: Brad Garlinghouse, Ripple
Where: Swell 2018 by Ripple
How: https://swell.ripple.com
When: 7pm
What: Counting Crows
Where: Swell 2018 by Ripple
How: https://swell.ripple.com
---
Tuesday, October 2
When: 10–10:30am
What: Cory Johnson, Ripple
Where: Swell 2018 by Ripple
How: https://swell.ripple.com
When: 11:30–12pm
What: Robert Hackett, Fortune, R.J. Pittman, eBay
Where: Swell 2018 by Ripple
How: https://swell.ripple.com
When: 2:45–3:30pm
What: Kwon Park, Bittrex
Where: Swell 2018 by Ripple
How: https://swell.ripple.com
When: 6:30–9:30pm
What: Art of Negotiation with Jimmy Ku, River Ecosystems and panel for Women's Entrepreneurship Day
Where: ClockTower Penthouse, 461 2nd Street
How: $33, http://www.eventbrite.com/e/art-of-negotiation-tickets-50721751123
---
Thursday, October 4
When: 9:10–10:10am
What: Mike Arrington, XRP Capital
Where: Global Blockchain Forum, Hyatt Regency, 5 Embarcadero
How: https://gbforum.co
When: 10:10–10:20am
What: Alex Mashinsky, Celsius Network
Where: Global Blockchain Forum, Hyatt Regency, 5 Embarcadero
How: https://gbforum.co
When: 11:20–11:50am
What: Sunny Dhillon, Signia Venture Partners
Where: Global Blockchain Forum, Hyatt Regency, 5 Embarcadero
How: https://gbforum.co
When: 1:45–2:05pm
What: Vinny Lingham, Civic
Where: Global Blockchain Forum, Hyatt Regency, 5 Embarcadero
How: https://gbforum.co
When: 2:10–2:20pm
What: Sam Cassatt, Consensys
Where: Global Blockchain Forum, Hyatt Regency, 5 Embarcadero
How: https://gbforum.co
When: 2:20–2:50pm
What: Kyle Ellicott, Read Write Web
Where: Global Blockchain Forum, Hyatt Regency, 5 Embarcadero
How: https://gbforum.co
When: 3:10–3:20pm
What: Michael Terpin, CoinAgenda
Where: Global Blockchain Forum, Hyatt Regency, 5 Embarcadero
How: https://gbforum.co
When: 4:05–4:25pm
What: Jeremy Gardner, Ausum Ventures, Ran NeuNer, CNBC Africa
Where: Global Blockchain Forum, Hyatt Regency, 5 Embarcadero
How: https://gbforum.co
When: 4:35–5:05pm
What: Kingsley Advani, Chainfund Capital
Where: Global Blockchain Forum, Hyatt Regency, 5 Embarcadero
How: https://gbforum.co
When: 5:05–5:35pm
What: Joey Krug, Augur / Pantera Capital, Ran NeuNer, CNBC Africa
Where: Global Blockchain Forum, Hyatt Regency, 5 Embarcadero
How: https://gbforum.co
When: 5:35–6:05pm
What: Kyle Ellicott, Read Write Web
Where: Global Blockchain Forum, Hyatt Regency, 5 Embarcadero
How: https://gbforum.co
When: 6–9pm
What: Stanford on Advancing Blockchain Research
Where: Swiss Consulate, Pier 17, #600
How: https://www.eventbrite.com/e/advancing-blockchain-research-with-dfinity-and-stanford-cbr-tickets-49453720409
When: 6–11pm
What: Bachelors Cocktail Edgewood Fundraiser
Where: 195 Maiden Lane
How: https://www.eventbrite.com/e/the-bachelors-of-san-francisco-present-the-21st-annual-cocktails-on-maiden-lane-tickets-48355299001
---
Friday, October 5
When: 10:15–10:25am
What: David Moss, BlockOne
Where: Global Blockchain Forum, Hyatt Regency, 5 Embarcadero
How: https://gbforum.co
When: 10:50–11:20am
What: Reese Jones, Singularity University, Dr. Rand Hindi, Snips
Where: Global Blockchain Forum, Hyatt Regency, 5 Embarcadero
How: https://gbforum.co
When: 11:55–12:25pm
What: Kingsley Advani, Chainfund Capital
Where: Global Blockchain Forum, Hyatt Regency, 5 Embarcadero
How: https://gbforum.co
When: 1:25–1:55pm
What: Charles Michael Yim, Cointopia, Zhen Cao, JD Capital, Ran NeuNer, CNBC Africa
Where: Global Blockchain Forum, Hyatt Regency, 5 Embarcadero
How: https://gbforum.co
When: 2:05–2;35pm
What: Ran NeuNer, CNBC Africa
Where: Global Blockchain Forum, Hyatt Regency, 5 Embarcadero
How: https://gbforum.co
When:  2:45–3:05pm
What: Fred Krueger
Where: Global Blockchain Forum, Hyatt Regency, 5 Embarcadero
How: https://gbforum.co
When: 3:20–4:40pm
What: Simon Bogdanowicz, BlockTeam Ventures
Where: Global Blockchain Forum, Hyatt Regency, 5 Embarcadero
How: https://gbforum.co
When: 4:40–5:40pm
What: Interoperability + Media & Entertainment panels
Where: Global Blockchain Forum, Hyatt Regency, 5 Embarcadero
How: https://gbforum.co
When: 5:40–5:55pm
What: Pitch Winners & Closing Ceremony, judges include Josh Constine, TechCrunch, Gil Penchina, Ridge Ventures, Garry Tan, Initialized Capital, Prabhakar Reddy, Accel, Avichal Garg, YC, Li Jiang, GSV
Where: Global Blockchain Forum, Hyatt Regency, 5 Embarcadero
How: https://gbforum.co
When: 6:30–10pm+
What: Dinner & Hackathon with Vitalik Buterin, Joey Krug, Augur, Simon de la Rouviere & Evan Van Ness, ConsenSys, Connie Yang, Coinbase, Kartik Talwar, SV Angel
Where: ETHSanFrancisco, Palace of Fine Arts, 3601 Lyon
How: FREE! https://ethsanfrancisco.com
---
Weekend 1: Friday, October 5 — Sunday, October 7
When: Friday, October 5-Sunday, October 7
What: Hardly Strictly Bluegrass with Mavis Staples, Alison Krauss, Deer Tick, Nick Lowe, Graham Nash, Trampled By Turtles
Where: Golden Gate Park
How: FREE! https://medium.com/@martineparis/ultimate-guide-to-hardly-strictly-bluegrass-and-treasure-island-fest-442fbc85790
---
Monday, October 8
When: 10:35am
What: Joseph Weinberg, Shyft Network
Where: Epicenter, Hilton Union Square
How: http://sfblockchainweek.io/agenda
When: 11:35am
What: John Burbank, Passport Capital
Where: Epicenter, Hilton Union Square
How: http://sfblockchainweek.io/agenda
When: 12:15pm
What: Min Kim, ICON
Where: Epicenter, Hilton Union Square
How: http://sfblockchainweek.io/agenda
When: 4:15–5pm
What: Brayton Williams, BoostVC, Steve Jang, Kindred Ventures
Where: Epicenter Main Stage, Hilton Union Square
How: http://sfblockchainweek.io/agenda
When: 4:15–5pm
What: Joey Krug, Augur/Pantera Capital, Edith Yeung, 500 Startups, Nadav Hollander, Dharma
Where: Epicenter Building Blocks Stage, Hilton Union Square
How: http://sfblockchainweek.io/agenda
When: 5–7pm
What: Josh Stein, Harbor
Where: NODE, 1011 Kearny
How: $5, https://www.eventbrite.com/e/sf-security-token-meetup-sf-blockchain-week-edition-node-tickets-50701557724
When: 6–9pm
What: Future of Layer2 with Celer, Spank Chain
Where: Galvanize, 44 Tehama
How: https://www.eventbrite.com/e/the-future-of-layer-2-tickets-50463713325
---
Tuesday, October 9
When: 11:15am
What: Ella Zhang, Binance
Where: Epicenter Main Stage, Hilton Union Square
How: http://sfblockchainweek.io/agenda
When: 11:45am
What: Sam Lessin, Slow Ventures
Where: Epicenter Main Stage, Hilton Union Square
How: http://sfblockchainweek.io/agenda
When: 12:10pm
What: Mike Arrington, XRP Capital, Dan Schatt, xPaypal, JP Thierot
Where: Epicenter Main Stage, Hilton Union Square
How: http://sfblockchainweek.io/agenda
When: 1:30pm
What: Karthik Raju, Polychain
Where: Epicenter Main Stage, Hilton Union Square
How: http://sfblockchainweek.io/agenda
When: 4:15–5pm
What: Mike Arrington, XRP Capital, Alex Shin, Hashed
Where: Epicenter Main Stage, Hilton Union Square
How: http://sfblockchainweek.io/agenda
When: 5pm
What: Co-Designing Crypto
Where: CELO in The Mission
How: https://codesigningcrypto.splashthat.com
When: 6–7–8-10pm
What: The Future of Blockchain with Sam Lessin, Slow Ventures & BUIDL Blocktails & Bites
Where: SPUR, 654 Mission
How: https://buidl.splashthat.com
---
Wednesday, October 10
When: 9:55am
What: Vitalik Buterin, ETH Founder, Joseph Poon, Lightning Network, Karl Floersch
Where: CESC Main Stage, Hilton Union Square
How: http://sfblockchainweek.io/agenda
When: 1:25pm
What: Uprooting Capitalism and Democracy for a Just Society, Glen Weyl, Microsoft
Where: CESC Main Stage, Hilton Union Square
How: http://sfblockchainweek.io/agenda
When: 6pm
What: Future of Token Economy with Ada Yeo, Coinbase, Tech Chia, Binance
Where: Block71 De/Centralize, 164 South Park
How: Sold out https://www.eventbrite.sg/e/future-of-the-token-economy-tickets-49423952372 Livestream https://www.facebook.com/block71sf
When: 5:30–8pm
What: Scaling with Bonnie Cheung, 500 Startups
Where: OKCoin, 17/F, 150 Spear
How: https://www.eventbrite.com/e/500-blockchain-state-of-scaling-latest-progress-challenges-tickets-49995491862
---
Friday, October 12
When: 8-5:30pm
What: NonFungible Summit co-sponsored by Blockchain Gamer
Where: General's Residence at Fort Mason, Franklin/Bay
How: https://www.eventbrite.com/e/nonfungible-summit-2018-tickets-49633201241
---
Weekend 2: Saturday, October 13— Sunday, October 14
When: Saturday, October 13-Sunday, October 14
What: Treasure Island Music Festival with Tame Impala, Cigarettes After Sex, Courtney Barnett
Where: Middle Harbor Shoreline Park in Oakland
How: https://medium.com/@martineparis/ultimate-guide-to-hardly-strictly-bluegrass-and-treasure-island-fest-442fbc85790