dAppReview – EOS and TRON stand-out for volume and transactions but what kind of games?
Gaming, Gambling, Marketplaces and High-Risk make up the chains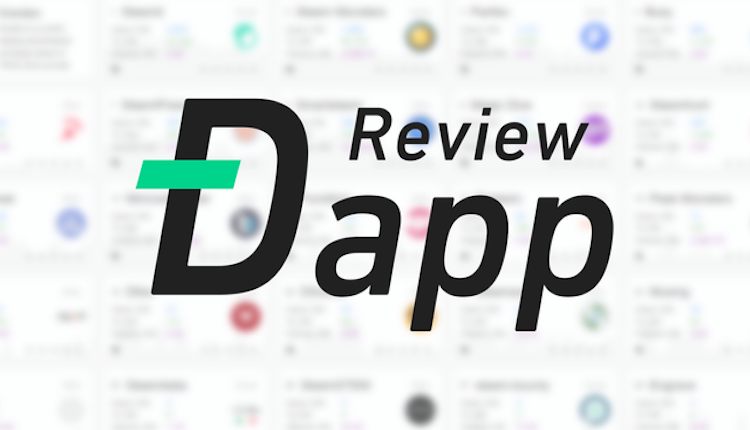 dAppReview has published a new report on the kind of developments from EOS, TRON and Ethereum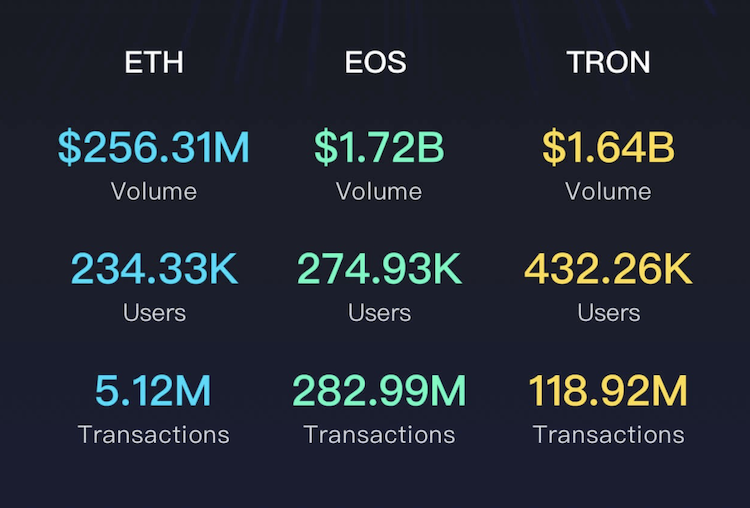 The first quarter of 2019 brings with it the review of blockchain dApps from dAppReview this week.
The team takes the opportunity to check on the performance of Ethereum, EOS and TRON. In total, these three chains have managed to complete approximately 407m transactions, according to dAppReview.
In conjunction with this transaction range, transaction volumes range from $256m [ETH], to $1.72bn [EOS].
The more important question to answer is why exactly is there this disparity in transaction volumes? This comes down to the kind of dApps which predominantly run on these chains, which dAppReview delves into.
These statistics are from dAppReview's own Q1 report.
Ethereum – Transactions from gaming, some casinos and 'Other' dApps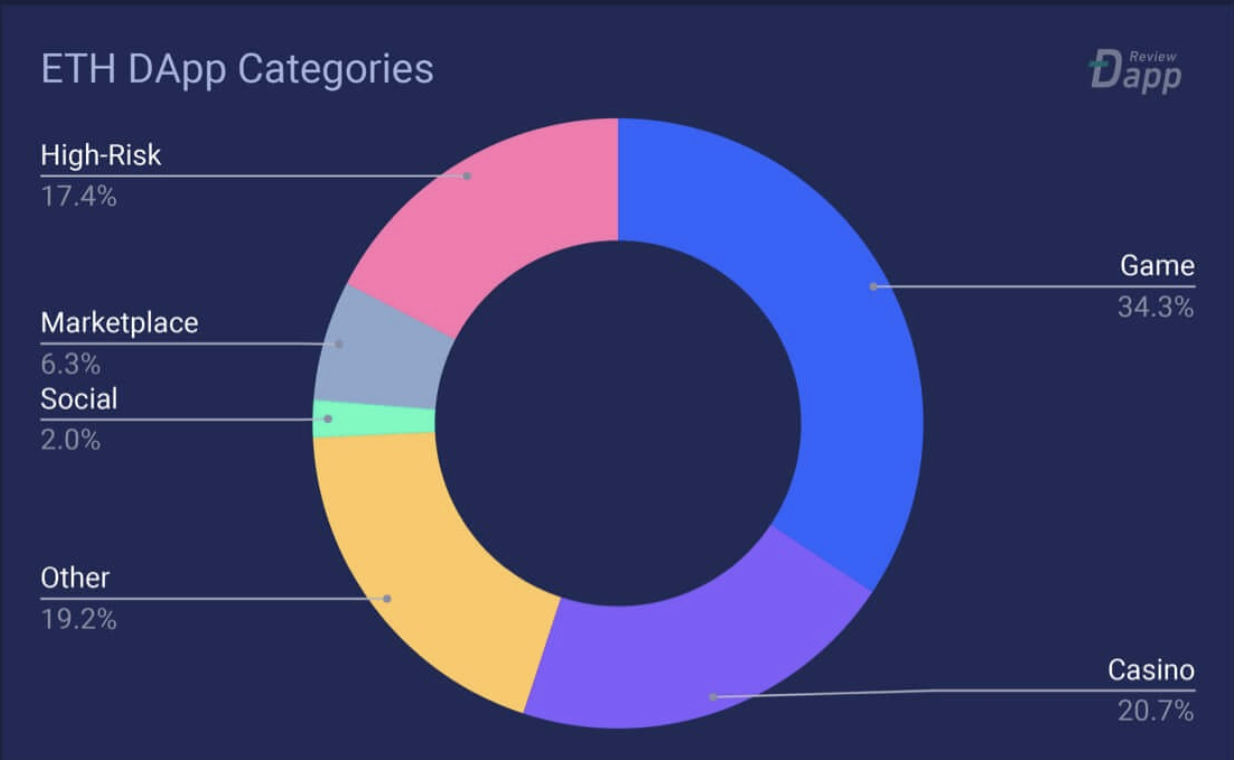 On [virtual] paper, Ethereum has the lowest range for volume and transactions, ($256m and 5.12M) there are some significant differences.
Firstly, transactions on ETH are more of a challenge due to scale and speed and costs.
These limitations mean that the kind of dApps that dominate the ecosystem vary significantly along with the various projects.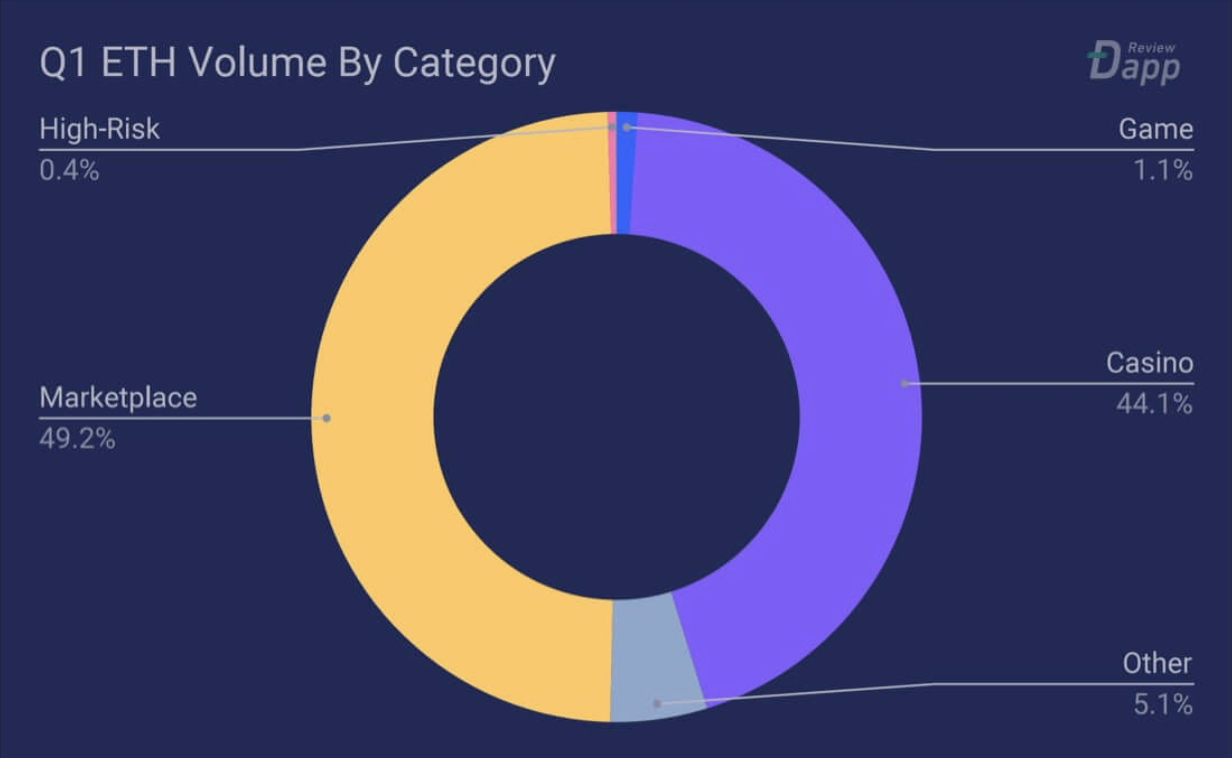 Compared to its counterpart chains, Ethereum is made up of a majority of gaming titles, along with some gambling and alternative projects, which vary in kind and quality.
It's the matters of scalability, transaction costs and speed which make up the difference between the dApp breakdown.
As for transaction volume, the picture is a little different, with Ethereum transactions being made up of casino gambling, along with marketplace transactions.
EOS & TRON – an emerging game population but mostly gambling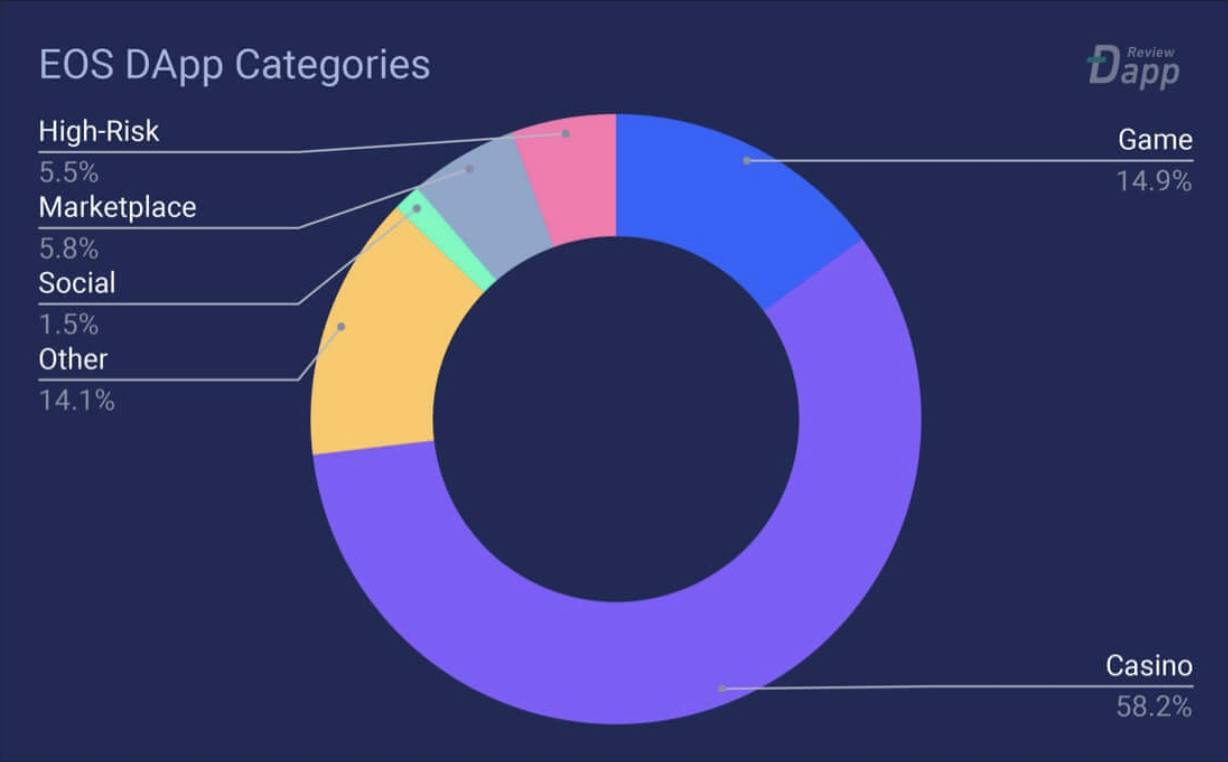 EOS
One of the reasons why titles like EOS Knights have managed to blaze a figurative trail is because of the transaction process.
Not requiring users to put money down on initial transactions means that users are able to make more payments on dApps without racking up too many costs.
Along with this, the transaction speed makes it more feasible for developers to create new gambling titles on EOS.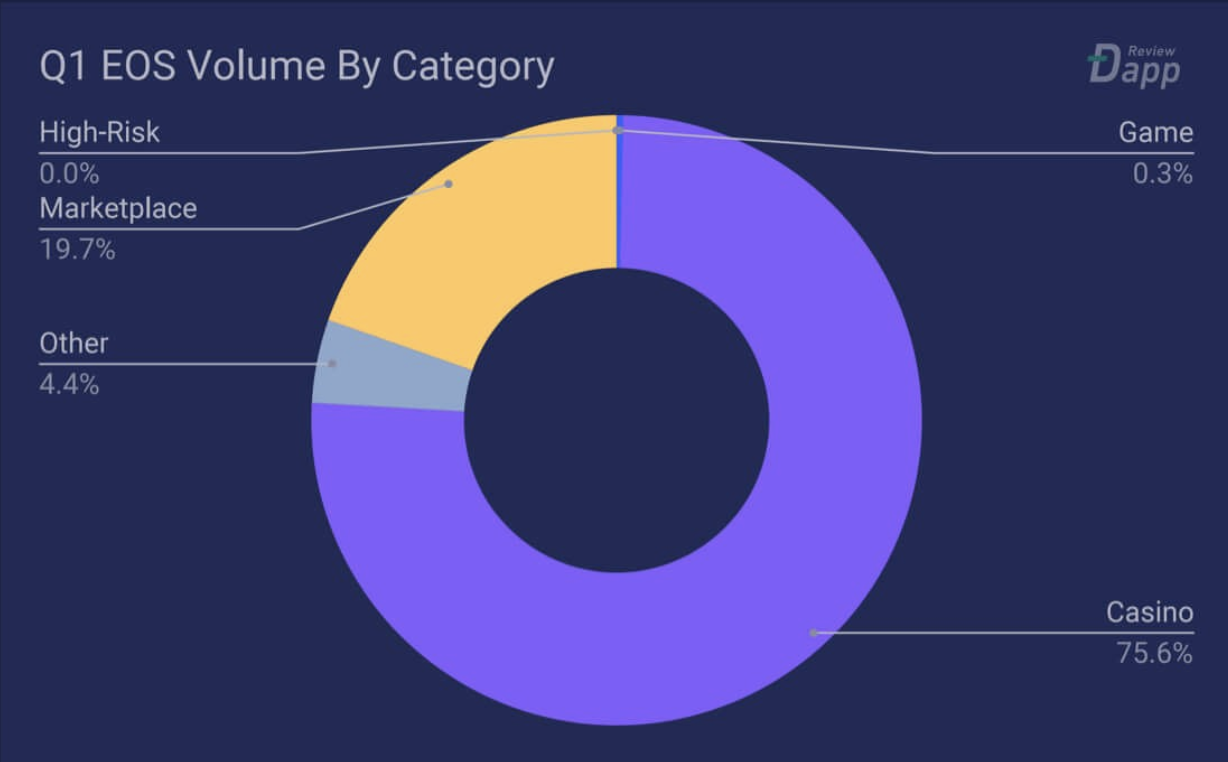 Where we see this holding true is in the kind of transaction trends and volume activity by category.
Both of which show a steady decline in, but continued dominance of gambling games across EOS.
This combination of transaction speed and reduced costs mean that EOS is far more conducive to casino titles, which currently dominate its range of categories.
TRON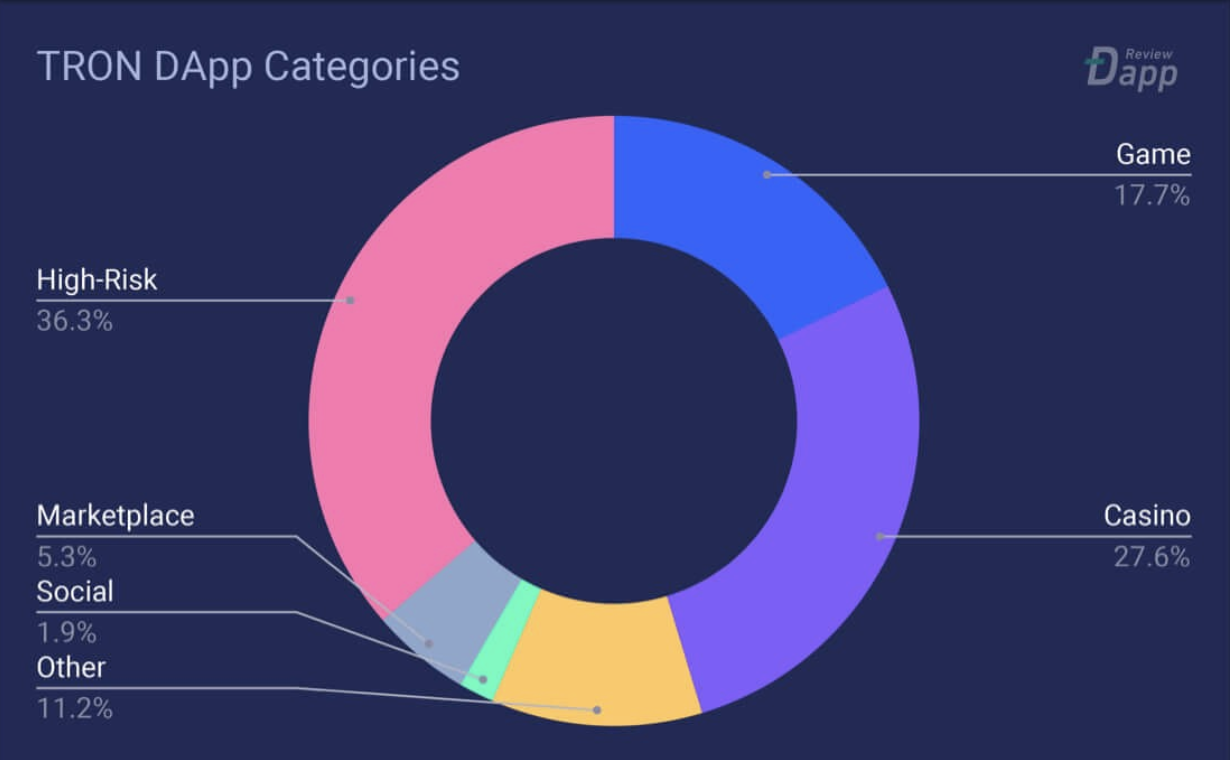 TRON has been undergoing a process of build-up for its library of game titles, including TRAPS recently.
But while TRON Arcade has been drawing in more game titles, its make-up remains split between high-risk and casino titles.
High-risk dApps consist of a range of investment idle-games, and gambling titles that offer dividend yields.
Similar to EOS, TRON's transaction speed also provide the ideal ground for gambling and gaming titles. With that said, the abundance of high-risk dApps doesn't help the credibility of its platform.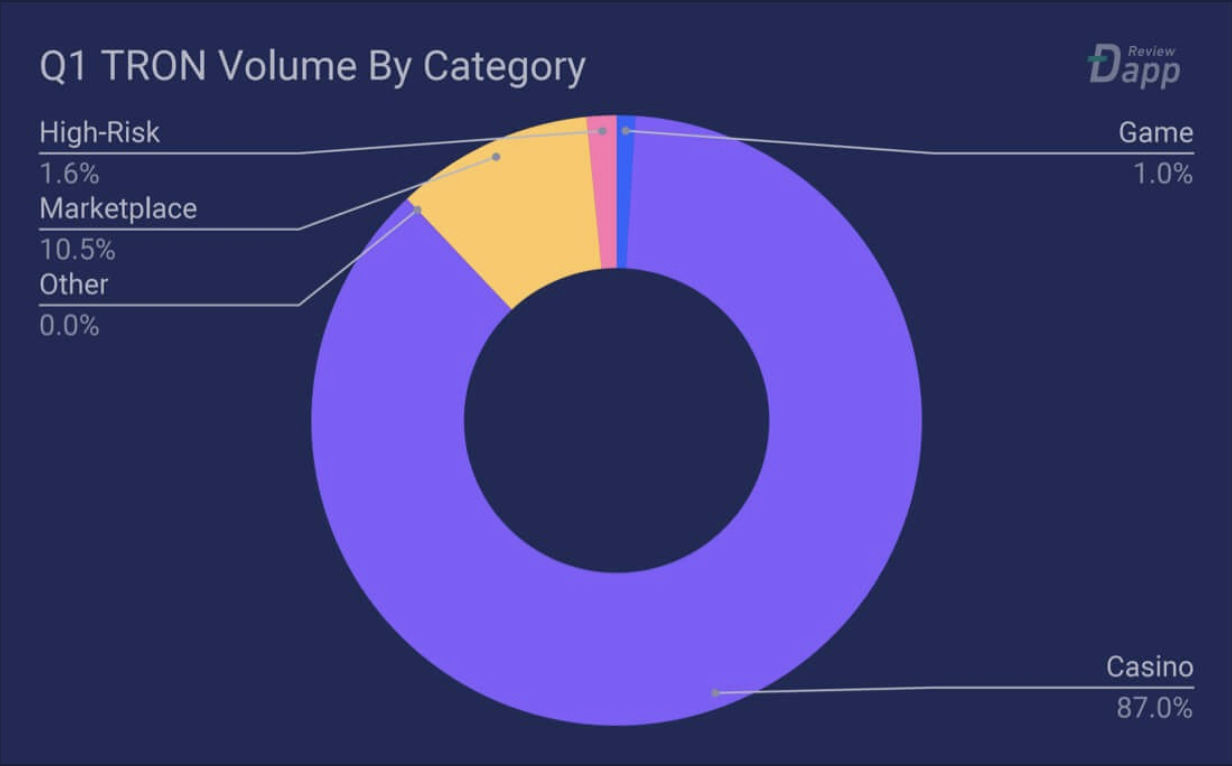 But while these high-risk dApps dominate the ecosystem, the vast majority of its transaction volume consists of its casino dApps, which make up 87% of its volume over the quarter.
One of the limitations that come with DappReview are the inconsistencies between analytics platforms in terms of volume, transactions, etc.
It's always worth cross-referencing this data with other platforms out there and drawing a strong conclusion.
For more information about the dAppReview Q1 report, visit the website.
---
And continue the discussion in our Telegram group and don't forget to follow BlockchainGamer.biz on Twitter, Facebook, and YouTube.