Polygon and Cronos were the most popular chains for new games in July 2023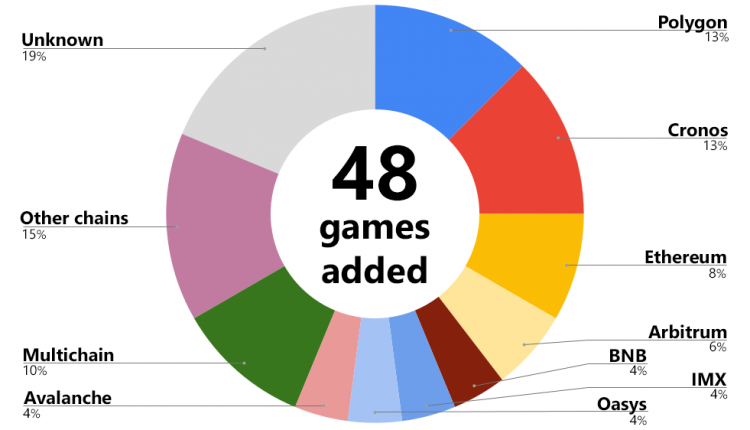 Don't miss out on any daily news from the blockchain games space: sign up to our Substack, follow us on Twitter and connect with us on Linkedin.
The Big Blockchain Game List has been crunching data for the new games added in July.
48 games were added, distributed over 15 different chains with Polygon, Cronos and Ethereum being the top three.
Two new chains were added to the list during July, including XRPL, which is home to Dark Oak Studios' Scrapt. The other new chain is Rangers, home to MMORPG MetaCene from Singapore-based Pangu Software, which recently announced new funding.
Looking at blockchain distribution, there have been some additional updates during July.
Solana-based Aurory announced it's going cross-chain with Arbitrum.
Eyeball Games revealed plans to migrate its Eyeball Pool from Cronos to Immutable's zkEVM platform ahead of the launch in 2024.
And similarly, AMGI announced its F2P metaverse My Pet Hooligan will migrate from having its PFP NFTs on Ethereum to exclusively deploy on Polygon, at least for the first 12 months.
Two games were removed from the list; The Football Club by German developer The Football Company, as well as Hong Kong-based Neopets, which announced it has put an end to its web3 integration.