What is Worldopoly?
Dotcom Ventures has big ambitions to turn the whole world into a game of Monopoly, where players try to buy entire cities, avoid virtual bankruptcy and earn real money doing it.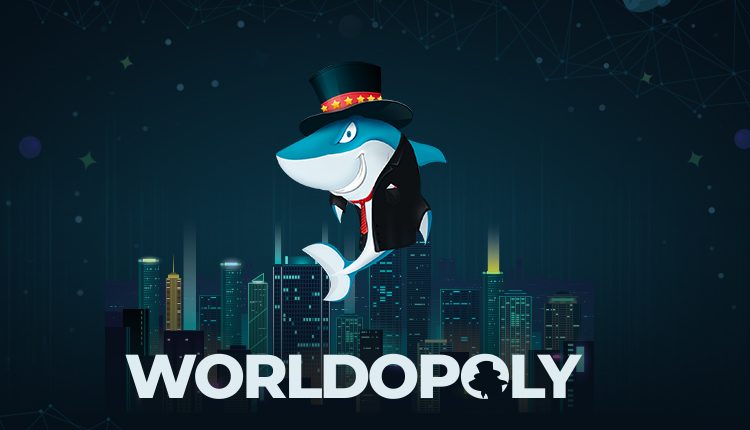 Dotcom Ventures' ambitions to turn the whole world into a giant game of Monopoly
Have you ever imagined our real world becoming a virtual one? Moreover, try to imagine that you can test your business intentions in the virtual world before making them real. Hoping to capitalise on the massive popularity of AR poster child, Pokemon GO, Swiss company Dotcom Ventures Holding AG has launched an ICO for blockchain driven mobile AR game, Worldopoly. The mobile game promises to turn the whole world into a game of Monopoly, where players will try to buy entire cities, avoid virtual bankruptcy and earn real money doing it.
Virtual realty
Worldopoly is a real estate simulation mobile game which utilises augmented reality, blockchain and artificial intelligence. Dotcom aims to create a memorable, fun, interactive game that engages experienced and new gamers worldwide. A game that allows players to learn how cryptocurrencies work in a safe environment, with the option to invest and earn real money.
The studio also aim to add value to the gaming community and its backers in a way that extends beyond mobile gaming by sharing the ICO journey, entrepreneurial successes, learning curve and insights.
An economic simulation game like Worldopoly will help players to experience and learn the key foundations of management, marketing and advertising, how to build a strong team or how to become an essential part of it. That you can learn and practice such business skills and enjoy the game at the same time is the game's USP.
AR-based mobile apps encourage users to spend time in the game like no one other and with the game space being the whole city, Dotcom hopes that the gameplay will help players build relationships both online and offline.
Not a bored game
Worldopoly is reminiscent of classic board game, Monopoly, as players buy streets and buildings, cooperate with other players and earn money. As in the board game, players try to own as many locations as possible to gain an advantage on their competitors. Each building can be improved and even sold to bring additional income.
Thanks to the AR technology, the player sees how the business grows and expands by adding new virtual components into the real landscape. Worldopoly works with Google Maps and users have access to streets and places of interest all around the world. For example, they can build the Eiffel Tower in the center of Moscow or purchase a hotel chain on the best streets of London.
However, if a player wants to build their empire in a location with high demand, such as the centre of New York, they'll need to invest a lot of money to buy other people's streets – and destroy someone else's plans. Players will also be able to create and join clans to build and buy large objects together, building them faster.
Advertising banners can be placed almost everywhere, so players could buy a house and sell virtual advertising on it to get extra profit.


A trio of currencies
There are three currencies in Worldopoly's game concept: gold, coins and the Worldopoly Token (WPT). WPT is cryptocurrency based on Ethereum platform (ERC20 token standard); gold and coins are in-game options only. Players can buy and improve buildings for coins; gold can help them improve the speed of building.
But the most interesting currency, of course, is WPT. Any building starts generating income immediately that can be exchanged for tokens and then withdrawn from the game to the user's wallet. 1 WPT equates to approximately $0.12. Just like in real life, the more buildings the player owns, the more profit their empire generates.
Worldopoly's core goal is to enable players to learn how cryptocurrencies work in a safe environment, with the option to invest and earn real money while playing the game. Thanks to Blockchain, the game's economy allows players to use their virtual achievements like real things, transparently monitoring everything without worrying about security or transparency issues.
Obtaining WPT in the game can be compared to mining in the real world, as an alternative to virtual proof of work. The monetary potential of Worldopoly ensures that users really are immersed in a parallel universe.
The road to here
Today, the game is at the presale stage of its ICO. An initial investment of €1.5M has already been made for developing the prototype and launching the ICO. A further $18M is needed to bring the project to the market, including development and marketing costs.
The ICO ends this July, with the game available to download on both the App Store and Google Play from November. Bounty and Airdrop campaigns will run at the same time as the ICO, so everyone can be rewarded with tokens for helping with the project development and/or its advertising.
What's next?
The game will continue to gain new features after release. The team is currently working on technical development and game mechanics such as testing artificial intelligence, adding objects to the map and developing the system of mutual influence of objects and players.
The intention is to create a whole civilization by 2020, where everyone will have the opportunity to manage their own city with their currency and infrastructure.
Beyond Worldopoly, Dotcom plans to create a network of multiplayer blockchain-based games, each with its own cryptocurrency that can be exchanged between them, so players can use their funds in all the games at the same time.
The company is open for new partnerships. For more details, get in touch via social media or contact the team via the website.